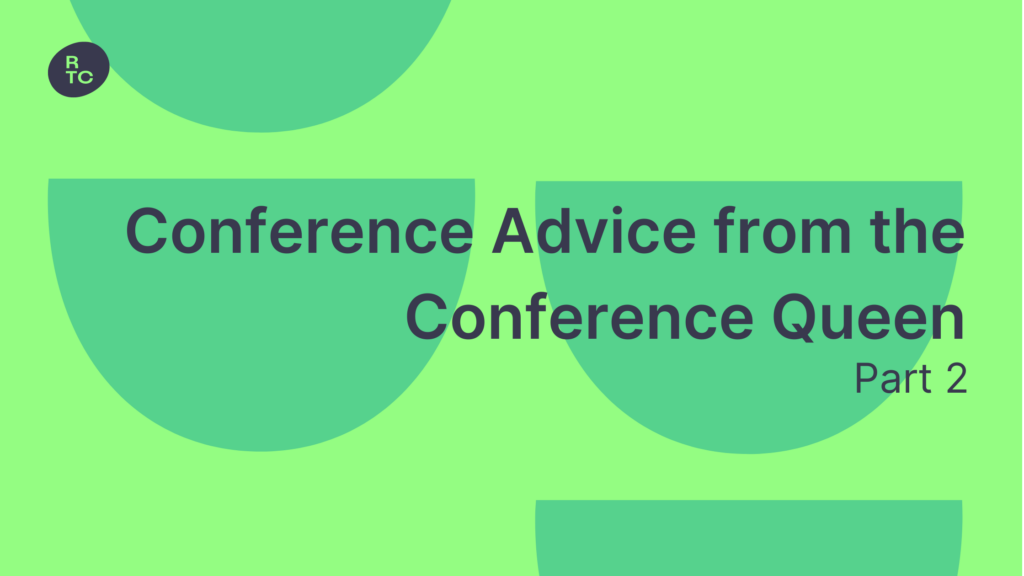 Written by RTC Member Krystal Maighan, a Ph.D. student at the University of Vermont. 
Catch up on Conference Advice from the Conference Queen – Part 1.
Now that you have read about getting to the conference, it is time to talk about how to make the most of your time! Like I said in Part 1, I believe that a person's career and passion for a field can be very much influenced by the culture of the community, so I explored many of these spaces until I found a fit. And why? Because it is through my journey navigating conferences that I found a home. And I believe that you can, too!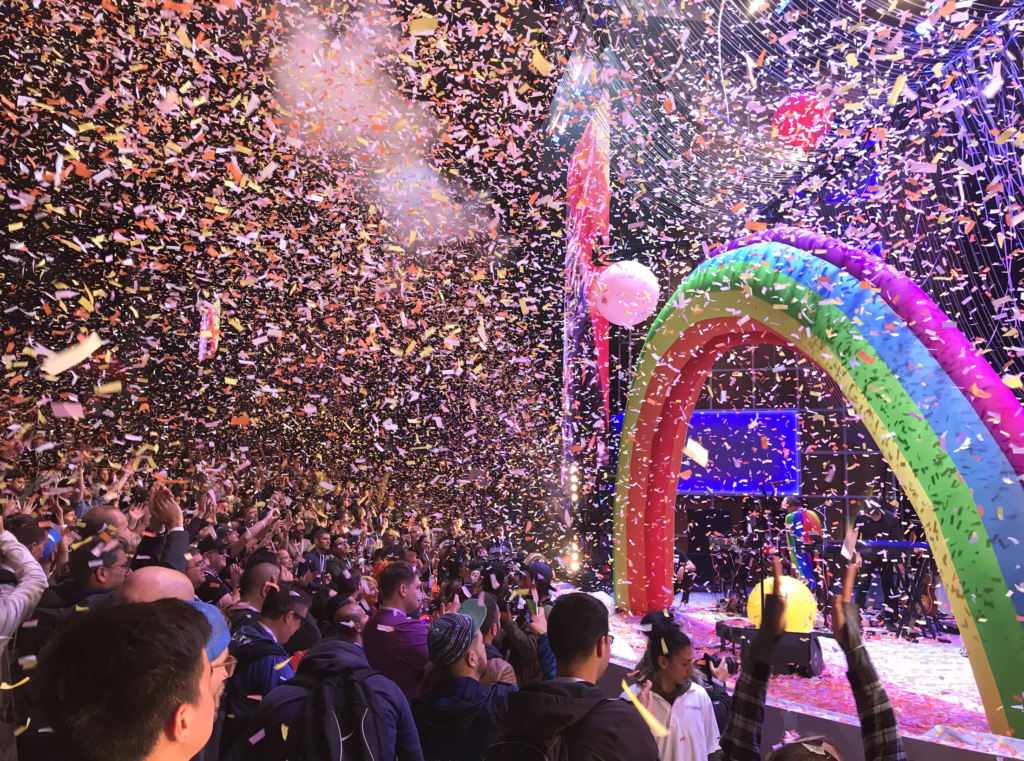 Navigating the Conference
So you're here, but you're by yourself. How do you make the most out of being at the conference?
Many conferences have social groups like Discord, Slack, or Whova to connect with peers.
I am a big fan of test-driving and building a community with a smaller conference or group first before venturing out into a giant conference.
If you are giving a talk, you should gain feedback by giving your intended talk at a local Meetup before presenting at the larger conference.
At one of my first conferences, the organizers intentionally built a community. They provided grants for first-time student participants to attend and matched them with veteran participants of the community. They had an introductory breakfast for first-time participants to connect with their mentors. During lunchtime, they provided general signs under which participants could stand based on their food preference (Would you like to try TexMex Barbecue today?). This meant you could meet an entirely different group of people daily!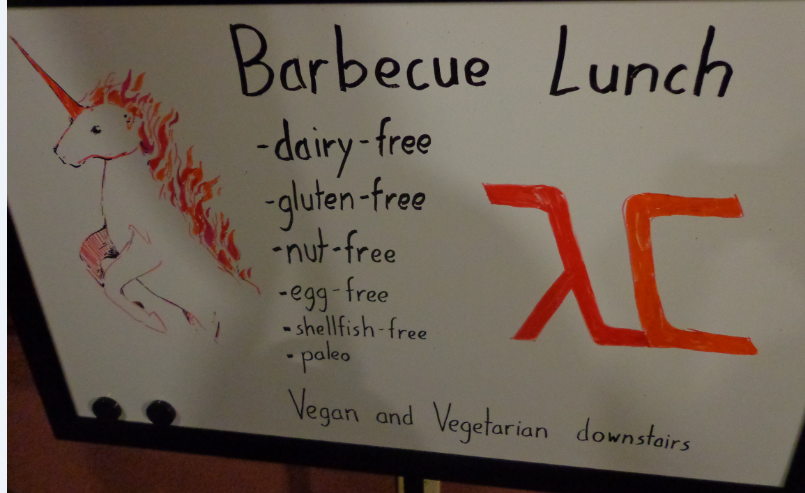 Conferences can be exhausting
There are thousands of participants at larger conferences, such as the Grace Hopper Conference or NeurIPS. There are often concurrent sessions, and burnout is a real issue with which to contend.
It is recommended to book a hotel as close to the conference as you can (take advantage of booking discounts offered by the conference), in case you wish to retire to your room during lunch or to take a nap before an afternoon talk you wanted to attend.
You can craft your experience as you like. In some cases, veteran participants would miss the talks entirely if they know they are recorded and instead rest during the day and catch up socially with friends and colleagues in the evening.
For large conferences with concurrent sessions, look at least a day ahead and pick out a few sessions you definitely would like to attend and rank them, knowing that you may not be able to attend all if you become exhausted and need to take a quick nap. Be aware that all sessions may not be in the same building, so plan your expectations for attending talks accordingly. If you are lucky, your conference might also have a quiet room or nap room!
Bring a CV
If you have your eyes set on a company, you may want to bring a CV or have access to one. For example, when you register for academic conferences, you can upload or link to a CV or profile and opt-in for recruitment. At booths, you may connect with an employee of a company, and they may ask to scan your badge to obtain your contact information via a QR code or provide you with a personal business card.
For conferences such as Tapia or Grace Hopper, the lines can be very long for interacting with employees at large, well-known companies. Plan accordingly and use the time that the booths will be available for interaction wisely; maximize your allocation for interacting with specific companies.
If you cannot attend a conference, they may still allow you to enter your CV into the database for recruitment. This was where I received my first internship offer for a company in Silicon Valley!
Bring a notebook and do not overpack to the conference
I often carry a notebook with me, but many conferences may provide these. It is useful not to overpack when going to a conference, as many conferences will provide you with swag. This could be a t-shirt and a schedule for the events or company swag. This can present a problem if, when you arrive, your luggage is already full, so be sure to anticipate this.
Socials, Dinners, and Dancing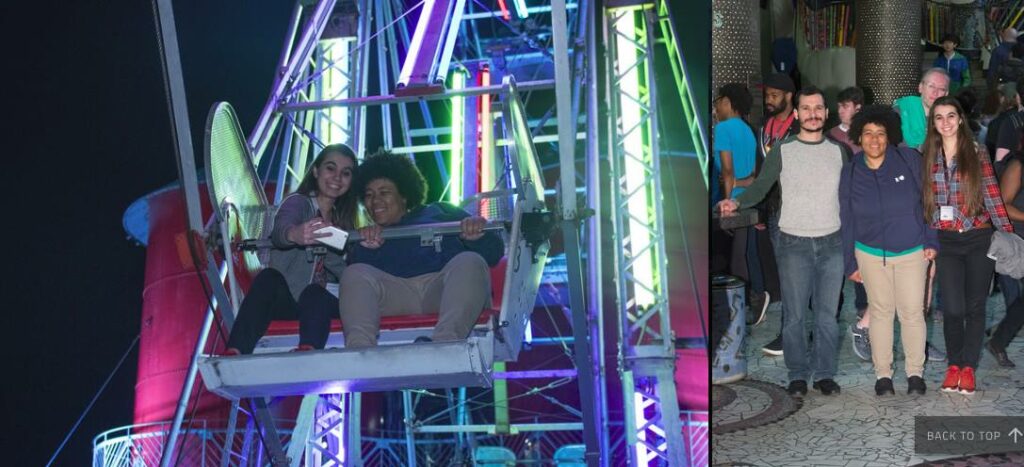 Many socials can involve food and dancing. Connecting with new acquaintances is useful because if you need to take a bathroom break or stock up on food, they can save your seat, and it's just generally a lot more fun to share these experiences with friends.
It's worth noting that in some conferences, it may be more difficult to walk up to really well-known speakers because participants may mob them. In other cases, they may have attended to catch up with senior collaborators.
Conferences are getting a lot better at mixing junior and senior participants, and a stand-out during my time has been the Programming Languages community's Programming Languages Mentorship Workshop (PLMW), in which mentorship is provided for junior participants, as well as guidance on how to apply to graduate school, and what sort of careers exist for researchers (both in industry and academia). Plus, they were able to fully sponsor each participant (flight, hotel, registration). They were also very intentional about ensuring every table with junior participants during lunch and dinner also included at least 1 to 2 senior participants.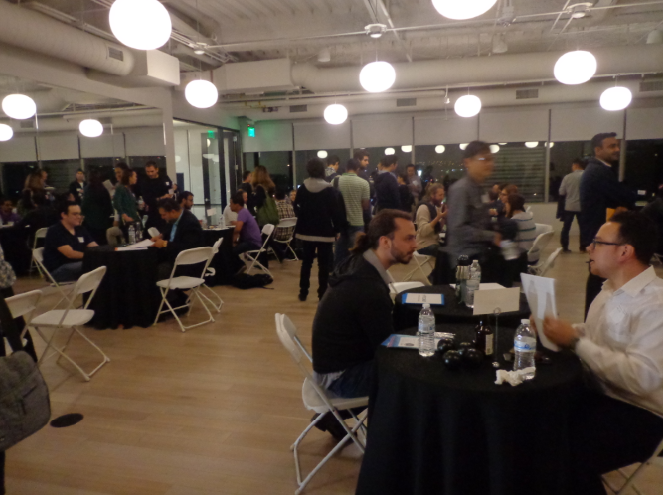 Following Up, Thank Yous, and Giving Back
When the conference ends, you'll have a stack of cards and emails or enjoy interacting with quite a few individuals. Be sure to follow up by saying that it was a pleasure meeting them and exchanging socials.
A great part of attending a conference for the first time, and then the second, is that eventually, you realize that you love the community so much that you would be okay with co-organizing. Give a talk, feel free to blog about your experience, and if you are able to, help out sometime in the future. Giving back as a veteran conference-goer is giving back full-cycle to your community.
I hope you have fun, and feel free to reach out via LinkedIn if you'd like to tell me about your favorite conference.
Sincerely, the Conference Queen.
Stay connected with RTC through Instagram, Facebook, and LinkedIn, or join our community of 19,000+ women in tech at teamRTC.org.