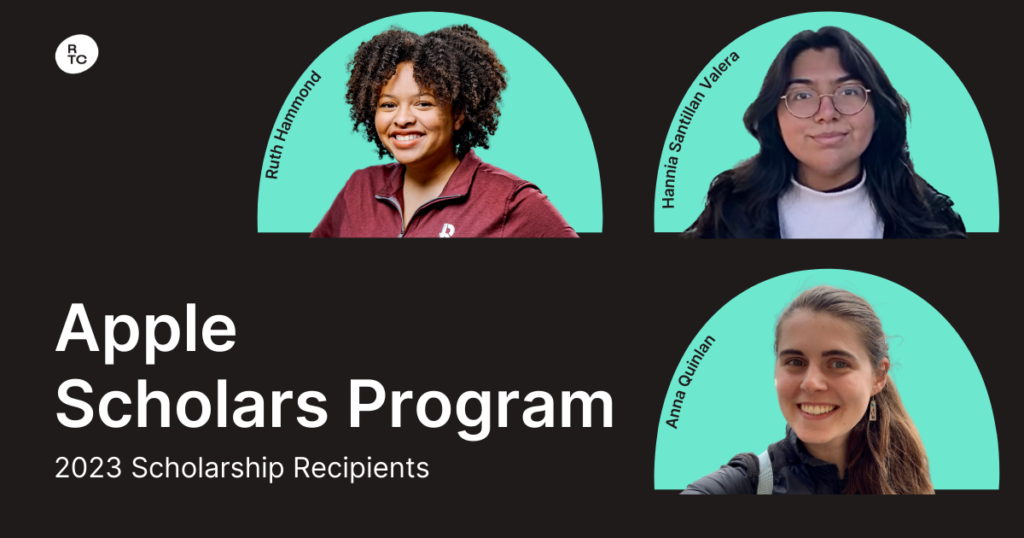 In the winter of 2021, Rewriting the Code, in partnership with Apple, announced the Apple Scholars Program scholarship, which would award three women $15,000, a technology package, and a travel stipend to attend an event. Rewriting the Code and Apple were looking to select winners based on how they contribute to the advancement of tech in accessibility, education, environment, inclusion, and diversity or privacy — all key values of Apple. Out of 290 applicants, Ruth Hammond, Hannia Santillan Valera, and Anna Quinlan were selected as the Apple Scholars Program recipients and have now received their second award of $15,000.
The Apple Scholars Program has provided these three women with more than financial assistance over the last year. Ruth, Hannia, and Anna shared with us how the scholarship has impacted their journey as a woman in tech and the accomplishments and experience they have gained over the last year.
Apple Scholar Hannia Santillan Valera
Computer Science major at Northwestern University, class of 2024
"As a result of Apple's support, I have been able to completely focus on expanding my understanding of computer science and exploring my interests through my studies. Through the Apple Pathways program, I was able to be connected with teams at Apple last year which resulted in an internship with the MacOS Finder team. I had an incredible experience and was able to get exposed to being a Software Engineer for a high-visibility product. Through my experience at Apple, I was introduced to an amazing community of women in Software Engineering and my confidence furthered from their mentorship.
This past summer, I interned with the MacOS Finder team and was granted an offer to return with the Safari Core Technologies team, which I accepted and will be returning to for Summer 2023."
Apple Scholar Anna Quinlan
Computer Science major at Stanford University, class of 2023
"This support from Apple has enabled me to spend more time working with the Indigenous and open-source technology communities, helping me gain valuable technical and mentorship experience. It also helped me study abroad, which gave me firsthand experience with the challenges of building software for different languages and cultures, the knowledge that will be helpful as I start working in tech full-time!
This past year, I had the opportunity to intern on the Health team at Apple, where I was also involved in leadership for Indigenous@Apple. At school, I served as the president of Stanford's chapter of the American Indian Science and Engineering Society, studied abroad in Madrid for a quarter, and was an author on a paper published, related to diabetes immunology. I've continued my involvement with the diabetes open-source community and am in the process of contributing my senior project to one of the apps, which aimed to detect and notify patients with diabetes when they've forgotten to log a meal. Looking forward, I'll be joining the SwiftUI team in 2023 as a full-time software engineer!"
Apple Scholar Ruth Hammond:
Mechanical Engineering major at Rose-Hulman Institue of Technology, class of 2023
"Although I had a passion for computer science and some pretty impressive experiences, my untraditional path toward the field hindered me from fully considering tech as a long-term career. However, the support from Apple helped me to gain an invaluable sense of community and belonging within tech and enabled me to help other marginalized students feel the same. It helped me realize that my multi-disciplinary background and interests were actually one of my biggest strengths. As AI-based solutions spread across disciplines, the need for domain experts of various backgrounds to understand machine learning and apply their expertise in ML settings grows.
Through the Apple Immersion experience and Pathways Programming, I was able to get an inside look into Apple culture and understand how technology can be intertwined with Sustainability, Accessibility, and DEIA initiatives.
Through Apple's support of my study abroad experience I was able to understand my own cultural values and biases and gain a broader perspective, allowing me to ensure that future technologies that I work on have a positive impact on the greatest number of people. My sustainability and computer sciences studies in Sweden fundamentally changed the way I view and interact with the world. I was able to develop critical skills such as self-awareness, adaptability, and intercultural communication in addition to making lifelong friends. Apple's support enabled me to be a well-rounded engineering professional and clearly see how I can use my career to benefit society.
I studied abroad in Stockholm, Sweden at the KTH Royal Institute of Technology during the first 6 months of 2022. In addition to successfully completing classes in Machine Learning and High-Performance Computing, I served as first-line support for Sweden's leading supercomputing center, the PDC Center for High-Performance Computing, and was able to travel to the UK, Estonia, Norway, Denmark, and even the Arctic Circle!
During the summer of 2022, I interned at IBM Research in their Future of Climate division. I bridged together both materials scientists and programmers to automate the discovery process of an optimal carbon-capturing amine solution. By leveraging Machine Learning to develop novel solvent blends and rank the performance of these mixtures, I was able to help create a chemical predictive model based on computational chemistry and Artificial Intelligence methods for structural, topological, and chemoinformatic analysis.
I also was able to participate in the NYC RTC Summer Hub, where I was able to network with engineers at Figma, Tradeweb, Duolingo, and Goldman Sachs and make many new friends! During the fall of 2022, I participated in the 2022b cohort of the Google CS Research Mentorship Program. For Summer 2023, I accepted a research internship at Los Alamos National Laboratory in Los Alamos, NM as a part of their selective multi-disciplinary Los Alamos Dynamic Summer School program. I am currently waiting to hear back from graduate schools!
Currently, I am prototyping a wrist-worn device that will alert Deaf people or people who are Hard-of-Hearing of emergency alarms as a part of one of my class projects."
To learn more about the Apple Scholars Program and Rewriting the Code's participation, please visit: https://www.apple.com/education/higher-education/scholars/
Stay connected with RTC through Instagram, Facebook, and LinkedIn, or join our community of 17,000+ women in tech at teamRTC.org.