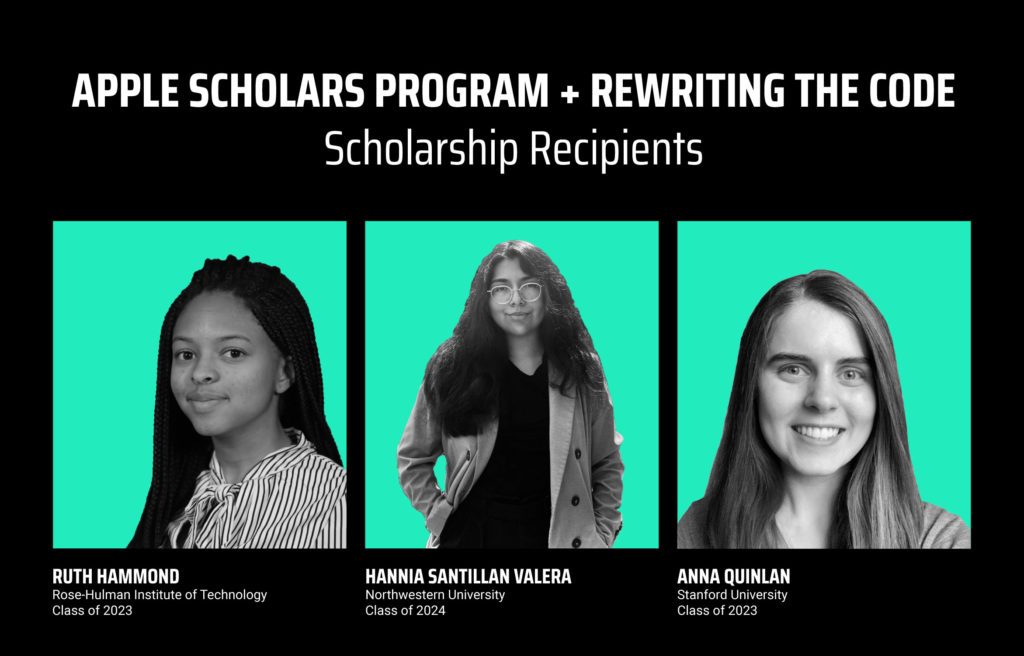 Durham, NC, Rewriting the Code, a national non-profit organization dedicated to changing the face of technology leadership by empowering women to complete degree programs, build careers and impact the industry supported by a global network of women in tech, today announced the three winners of the Apple Scholars Program scholarship. Anna Quinlan, Hannia Santillan Valera, and Ruth Hammond were selected for the $15,000 scholarship. They will also be awarded a technology package and exclusive participation in an immersion event with Apple.
The winners were selected from 290 Rewriting the Code applicants based on how they are contributing to the advancement of tech in areas of accessibility, education, environment, inclusion and diversity or privacy – all key values of Apple.
Ms. Quinlan, an undergraduate at Stanford University gave personal examples of technology challenges she experiences as an Indigenous woman. Currently working in the open-source diabetes community, she brings culturally relevant perspectives to serve the large Indigenous community affected with the disease, specifically type 2 diabetes. Her work has improved insulin delivery algorithms that solve problems for Native communities located in isolated regions of the country. Quinlan is also motivated to build technology to preserve threatened Native languages. The COVID-19 pandemic has brought urgency to addressing this need as tribes fear losing elders who are often the last link to these languages. Quinlan's career goal is to combine her connections with her experience to increase opportunities in tech for Native students.
Ms. Santillan Valera is studying Computer Science at Northwestern University. With internships and apprenticeships completed at Boeing, ACM, NASA, Goldman Sachs and PepsiCo, she is driven to create accessible software assisted by machine learning to create algorithms with the ability to produce limitless applications. Motivated by her sister's rare medical condition she saw first-hand that technology that is not built with accessible functionality robs the user from a fully immersive experience. Santillan Valera is focusing her studies on data engineering to gather insight into how users interact with widely used products.
Ms. Hammond will graduate in 2023 from the Rose-Hulman Institute of Technology. Growing up in Birmingham, AL, she saw first-hand how the local steel production plants produced severe air pollution resulting in side effects of asthma and skin issues prevalent in black and brown neighborhoods. In her mission to fight climate change, she believes the tech industry has one of the most important roles to play as technology can bring impactful innovation to this large and complex problem. Hammond believes that inclusivity to all groups of people will be achieved through advancements in current climate research in areas such as carbon-capture technology, energy efficiency in transportation systems and electronic parts recycling. Studying both Mechanical Engineering and Computer Science, Hammond will spend a semester as an exchange student at the KTH Royal Institute of Technology in Stockholm, Sweden, a country that is a global leader in sustainability. Hammond envisions impacting the tech community by becoming a globally respected researcher in the field of climate change encouraging collaboration between domestic and international industries.
"We are so pleased with our new partnership with Apple through the Apple Scholars Program as it allows us to place the spotlight on a few of our outstanding students," said Sue Harnett, Founder and President, Rewriting the Code.
---
Rewriting the Code is a 501(c)(3) nonprofit organization that has developed a community of exceptional college women with a passion for technology. RTC empowers women to become the next generation of engineers and tech leaders by providing community, industry education, professional and personal development, and hands-on experience through partnership with companies across North America.