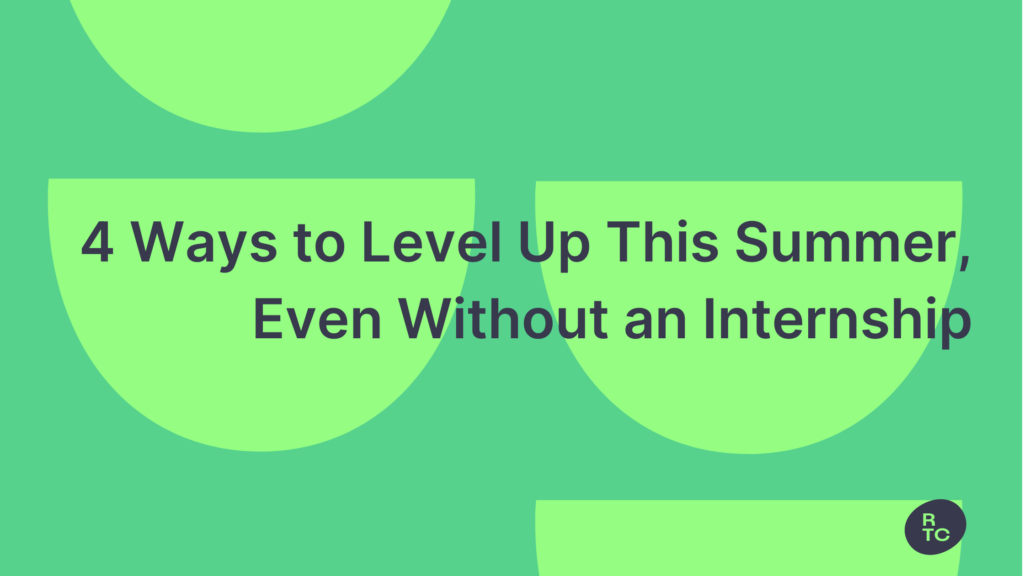 Written by Lucille Tasker, Director of Data & Technology at Rewriting the Code
The 2023 summer internship climate is challenging. If you didn't land a summer internship, or maybe even lost one, you aren't alone. Below are Rewriting the Code's top recommendations for ways to make sure that your summer is productive. We will walk through how we recommend spending your time and also how to highlight the new skills you learn on your resume.
Work on A Personal Project
Your biggest summer 2023 priorities should be developing a personal project and prepping for interviews for 2024. A personal project is a great way to build new technical and non-technical skills. They are also a great way to show off what you're passionate about in technology and are great conversation topics during interviews. If you're an RTC member looking to work on a project with other team members, you can use the #projects channel in the RTC Slack Workspace (request your invite here) to find people who want to work with you. In addition to finding developers for your team, you may want to have people in Project Management and Product Management roles to help you guide the project (and they can work on their skills, too!). If you don't have an idea for a project yet but know you want to work on one, we recommend posting in the channel and asking if you can join someone else's team! If you already have an idea and are looking for teammates, please post a brief description of your project, what skillsets you are looking for from team members, and your timeline for completing the project. If you are not an RTC Member, become one today!

Projects belong on your resume. Make sure you highlight the skills you learn over the summer on your resume clearly and effectively. Rewriting the Code stores lots of resume tips in our Resource Library. You may also want to check out this video with Mayuko (she talks about projects on resumes around 9:00)
Dive Deep Into New Skills
Rewriting the Code has interest groups to help you explore new technical skills and subjects. You may want to join our #interests-cybersecurity or #interests-data channels to find members who are also interested in building their skillsets.
Educative has free resources for creating projects. These are skill-building activities that can help you build a larger project on your own or in a group. You can learn how to do anything from creating an e-commerce store in Rust to minting your own NFT.
Are you planning to start a career in Artificial Intelligence or Machine Learning? You may want to check out this AWS AI & ML Scholarship program. 2,500 students will receive Udacity Nanodegree scholarships to join their summer cohort, mentorship, and career development opportunities. You will need to complete the AWS DeepRacer Student prerequisites by May 31, 2023 to be eligible for the application. Their winter cohort applications open on Jun 1, 2023.
Build Your Portfolio and Prep Your Resume
Are you looking for a guided prep to get your portfolio prepared, assess your skills, and study for interviews? This free GitHub Student Career Development Pack is a great place for you. As for interview prep, you'll get access to Educative – we highly recommend their Algorithms for Coding Interviews course. Educative also has many great skill-building courses available for free that may help you create a personal project!
Get To Coding!
Working on your coding interviewing skills is the second component to making your summer productive. If you're not sure where to get started on that, you can check out our top resources here!
Not landing a summer internship doesn't mean missing out on opportunities to boost your resume. With the right mindset and approach, you can still have a productive summer that helps you build new skills, gain valuable experience, and make meaningful connections. Whether you decide to work on a personal project, prepare for interviews, or take advantage of scholarship programs and free resources, make sure to make the most of your summer. By focusing on personal growth and skill-building, you'll be well on your way to success in your future career endeavors.
Stay connected with RTC through Instagram, Facebook, and LinkedIn, or join our community of 17,000+ women in tech at teamRTC.org.