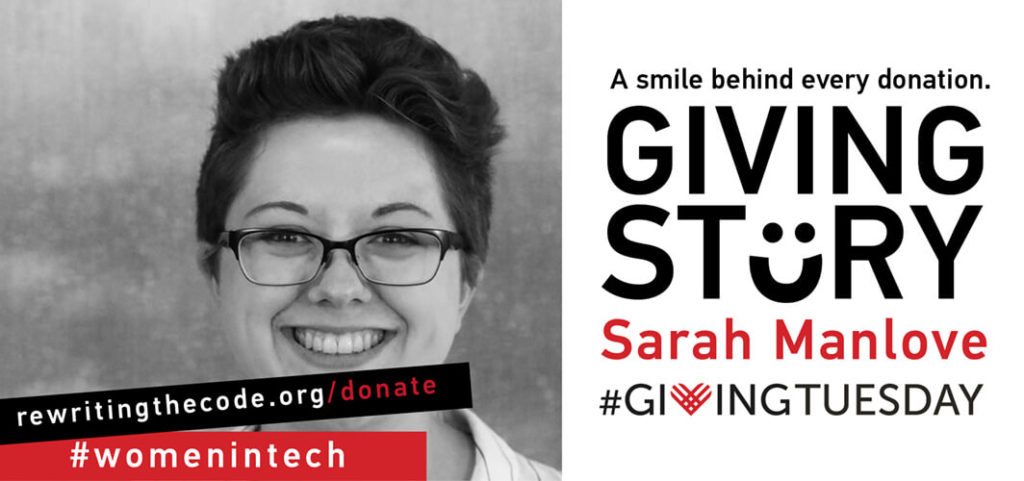 When you donate to Rewriting the Code, you help the women in our community gain access to the programs and experiences that will help them find their place in technology. On this #GivingTuesday, we bring you the thanks of some of the women in RTC to show you why there's a smile behind every donation:
"Rewriting the Code has changed my life. I heard about the organization at the end of my sophomore year. I had just recently joined the College of Information and Computer Sciences at my university, and though I had some programming classes under my belt, I struggled with imposter syndrome every day and, as a woman, felt like I didn't have many people I could voice this to. A friend at a different university told me about this organization, and joining the next fellowship class was a cause for celebration. Suddenly, I was surrounded by women that were going through similar things, which gave me the confidence to keep going in my degree. RTC has also allowed me to meet women from all over the country, from running into fellows at a conference in San Francisco to meeting up with fellows at our Boston meetups.
As graduation approaches, I realize just how much Rewriting the Code has done for me in the last year and a half. I found the confidence that I didn't know I was truly missing, and I've found a network of women and industry mentors.
I can't thank all of you enough for everything that you've done to support RTC. Your support is helping RTC to reach more and more women every day!"
– Sarah Manlove
Help us put smiles on the faces of our community of college women in tech when you donate to Rewriting the Code on #GivingTuesday, or any day of the year.