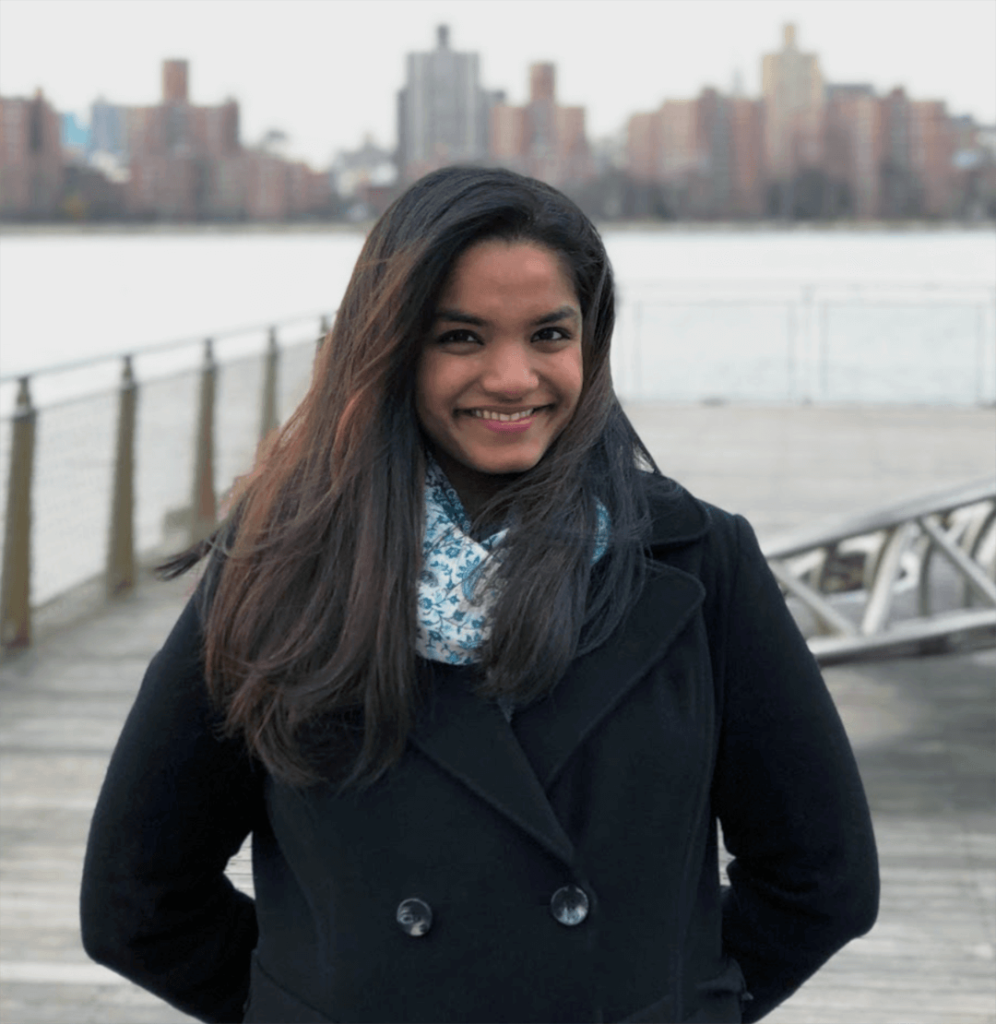 "RTC Conversations" is an interview series with mentors and advocates of Rewriting the Code. The series is spearheaded by two RTC alumnae: Lucy Zhang, a software engineer at Apple, and Alice Chen, a software engineer at Two Sigma.
Lakshmi Subbramanian is a manager and vice president in the Engineering organization at Goldman Sachs. We spoke with Lakshmi over Zoom about her experience as a woman in technology.
A: What does a typical day look like for you at Goldman?
My day-to-day varies throughout the year, but in general, I spend the majority of my time connecting with my team and engineers in the data team across the business, reviewing my team's priorities with leadership, and ensuring they align with the vision and goals of the larger organization. For example, when I meet with our users, some of whom are engineers from Goldman Sachs Asset Management, we often talk about their data requirements, how we can engineer and deliver solutions for our client needs, and whether a given project requires us to build a new data pipeline or roll-out something we already have. I spend 20-30% of my time diving into code reviews, discussing designs with my team, and refactoring our API lifecycles.
A: You still have time to code even though your role is mostly management now?
Yes. It helps me keep track of what new technologies are out there, to have a clear understanding of our products, platforms, and data, and to stay updated on issues that frequently come up so I don't have to guess in case of production outages or data discrepancies.
A: What are some of the most challenging parts of being a manager?
Time management and prioritization. The process of making a product better often comes down to understanding what the user cares about, knowing who can give you the most relevant information, and balancing what's important based on the conversations you've had with cross-functional teams and users. I initially did things as they came and lost sight of the big picture, but now I'm getting better at managing time for my day job and setting client expectations, which affords me more time to delve into the things I'm passionate about, like supporting initiatives to train and draw more women into the field of engineering, at the firm and with external organizations we partner with, such as Rewriting the Code and Girls Who Code.
A: How did you decide to pursue software engineering?
My mom was a software engineer, so I had always been curious about computers. When I was in college, I discovered my passion for design using technology as I designed posters, PowerPoint decks, and web interfaces. My internship with Goldman's Cloud Engineering team as a web developer exposed me to the exciting intersection of design, tech, and finance at the firm and taught me so much that I decided to become a full-time software engineer. It's exciting to see software engineering evolve through the years.
L: Looking back, what do you wish you knew when you started your career?
I wish I had realized earlier that it is okay to make mistakes, as long as we learn from them. I used to spend quite a bit of time mulling over simple things that went wrong: a bug in my code, accidentally emailing the entire team rather than a single person, having a conversation in public that should have been in private, etc. My productivity suffered as a result, until my mom shared an instrumental piece of advice with me: pick your battles. At the end of the day, I ought to recognize how my mistake affected me and my stakeholders, try to fix it to the best of my ability, and then move on to make the most out of the next opportunity.
L: Aside from overcoming mistakes, do you have other advice for RTC alumni like us?
First, ask a lot of questions. I was the kind of student who would always wait until after class to ask the instructor a question. My manager from my early career noted during our feedback discussion that they wished they heard my voice more during meetings because I did have ideas. That's when I realized I needed to get out of my comfort zone and be more vocal about my questions and opinions. Now you can't shut me up (laugh). When you ask meaningful questions, you're not only asking them for yourself; it's good for people around you as validation or inspiration to speak up. Exchanging questions helps you and your team grow together.
Second, take ownership of your career. I want to share one of my favorite pieces of advice from my manager when I started my career: no one cares about your career as much as you do. You are the "product manager" of your career path, and you know your priorities better than anyone else. So make active plans for yourself for the next 6 months, 1 year, 5 years, etc., even if they are subject to change. Advocate for yourself when you'd like a new role or promotion. Seek mentors and sponsors, and always be willing to explore opportunities to be part of something you're passionate about. Every little bit matters and influences how you view yourself.