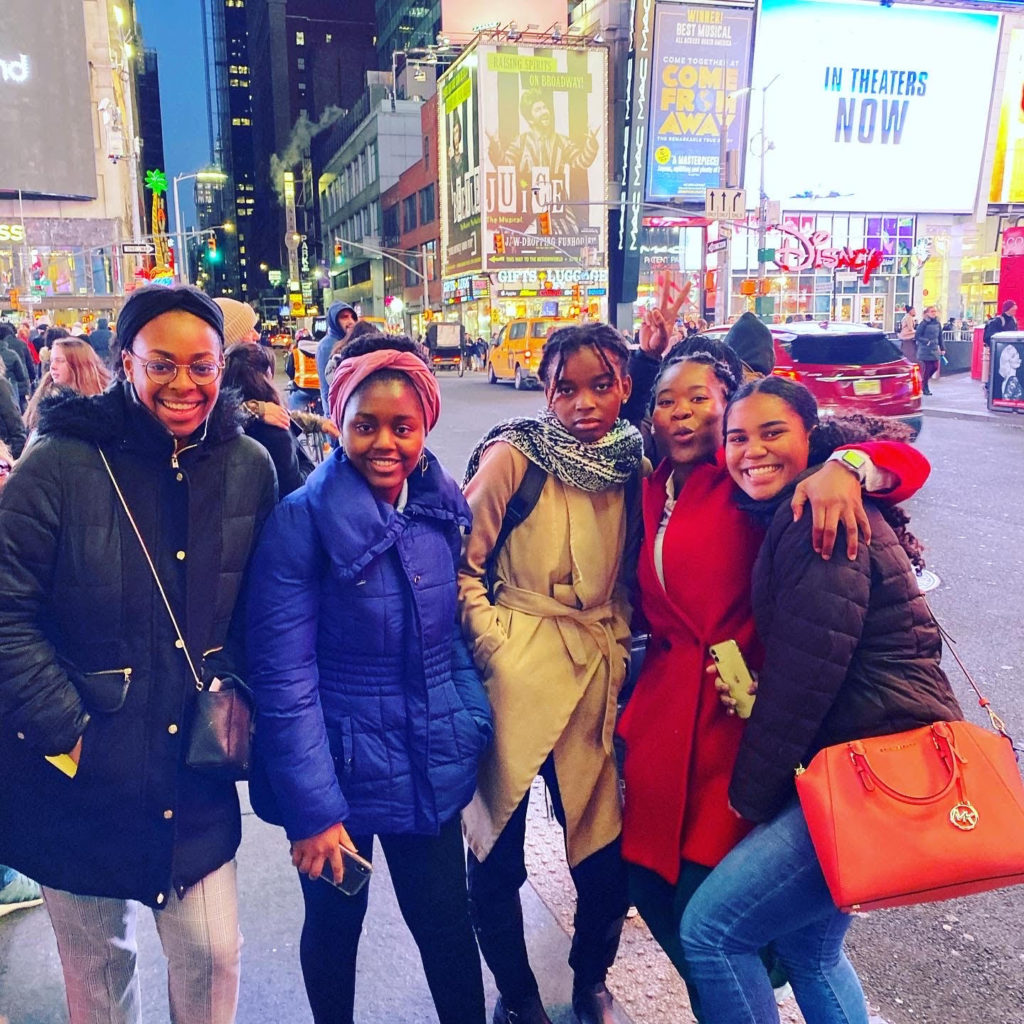 Black Wings, co-founded by Marissa Jenkins, Yan Lawrence, Ingride Ngaku, Destiny Nwafor and Paula Wambui, is a new group within Rewriting the Code that aims to provide support to Black college women in technology. This week we got the opportunity to visit Lyft in New York City to begin organizing our thoughts for the future of Black Wings and meet each other in person for the first time!! We had a packed schedule Tuesday and Wednesday in which our amazing hosts, diversity and inclusion university recruiters at Lyft, Celeste Hippolyte and Syndhia Javier guided our experiences.
Tuesday
After wandering the streets and confusing Pennsylvania St. for Penn Plaza, the five of us finally found our way to the WeWork office that is currently Lyft's home. We were welcomed with a bagel breakfast and had a chance to mingle with everyone! To get to know each other more, we each shared out the results of the 16 personalities quiz that we took beforehand (found here: 16personalities.com) , specifically the information under the career paths. I was interested to learn that my results had changed since the last time I took the quiz! Last time I got Protagonist and this time I got Mediator. Although I did not agree with the career paths the quiz determined would be the best fit for me, the assessment it provided about my work style did resonate with me. It described that I look for a moral purpose in my work, which means it is meaningful, valuable and I have an emotional connection with the service or product. The purpose of this activity was to truly understand one's strengths and weakness related to workplace habits and relationships to create a more cohesive environment. This deeper understanding of each other would in turn allow us to work better together while in New York.
Following the introduction, we took a quick tour of the office, which is soon to be empty next week when Lyft transitions into their new office. Hopefully RTC women will get the first look at their new office via video *wink wink*! During lunch we had great conversations covering travel plans, food and being strategic about career choices.
Here comes the fun part! After lunch we broke into two groups to go through a mission statement ideating process that Celeste and Syndhia planned for us. I worked with Celeste, Paula and Jade. I found this process enlightening and a great way to discover the core values of any organizations or businesses. So, if you need help developing a mission statement, listen up. First step, we told stories about what we envision for Black Wings when it is successful. Second, we went through the stories we wrote and circled persons and/or places, drew a rectangle around action statements and underlined impact statements. These markups form three separate categories: persons and places are our causes, action statements are what we do and impact statements are changes for the better. Third, we went back through the separate categories and found themes within those words and phrases to consolidate them into overarching groups. Lastly, we used those themes to create iterations of mission statements including the cause, action and impact of Black Wings. We were reminded it's important to not be confined by the word choice but instead focus on the content of the mission statement. This activity was super valuable to the team, we all left the meeting inspired, encouraged and motivated. We could better visualize where Black Wings was headed and think big about our future. Our mission statement is still under construction but the three pillars that we all unanimously agreed upon are developing, engaging and building the community. Of course talk about the future, prompted discussions deeper into our visions for Rewriting the Code and Black Wings. How can we disrupt the tech culture?
While we ponder this multifaceted question, let's head to dinner. It was 5:30pm on the east coast when Celeste and Syndhia treated us to authentic Spanish tapas at El Quinto Pino. Y'all. This was an experience. All that hard work worked up an appetite that the delicious Spanish cuisine satisfied! We decided to go family style; we ordered a few plates of everything and just shared! My personal favorite dishes were the Pinchos Moruno (Lamb skewars) and Bomba Toledana (Shepard's Pie). Must try restaurant in the Chelsea area, kind of expensive though, thankfully Lyft took care of us!
Wednesday
On the second day, we found the office with ease. So, every Wednesday Lyft does Bagel Wednesday, by that I mean every Lyft office has free bagels for their employees. There were real New York bagels waiting for us and all the other employees at the office! After catching up, we went into a meeting to discuss Black Wings and Lyft's partnership. How can they help us and how can we help them? We all took a moment to think personally then began brainstorming out loud. No ideas were impossible or crazy, we just got all thoughts onto the table. Things such as Lyft brunches in RTC regional areas, interesting webinars topics and interview prep specific to Lyft. Let us know or comment below about any cool ideas you have for interactions with Lyft or webinar topics in general!
Then we had the wrap up session in which we each stated a take away, remaining questions, and action items moving forward. Some key take aways from the entire group included sense of belonging in tech, deeper understanding of Lyft and how a true partnership is effective. We left the room with some action items for everyone; something to keep me busy over winter break! (: Thank you Celeste and Syndhia for creating such engaging presentation filled with cute gifs!
For lunch we had pizza slices the actual size of my face and they were delicious. NY Pizza Suprema is one of Syndhia's favorite pizza places and she wanted to give us authentic New York style pizza! We squeezed into small booths, got up close and personal, and enjoyed great pizza.
Now, the moment we've all been waiting for… TINA TIME!!! We scurried over to the Lunt-Fontanne Theatre for the Tina Turner Musical, which was a great post carb loading walk. I'm no musical reviewer, but the music was energizing through a moving story of the obstacles Tina has overcome during her life. It was an absolute privilege to sit through such a breathtaking performance. The ending was a literal concert and it was awesome! Sitting next to Sue was great because she was super excited, and her energy passed onto me! What a way to end our journey with Celeste and Syndhia.
Conclusion
Shout out to Sue and Jade for being with us during the entire trip and advocating for us with RTC partner companies.
Something we all appreciated was the care in which Celeste and Syndhia handled the workshops put on for Black Wings. They truly created a space for our voice to be heard and valued. Their passion to bring in diverse talent was genuine and abundant. SO THANK YOU!!!!
Best,
Black Wings