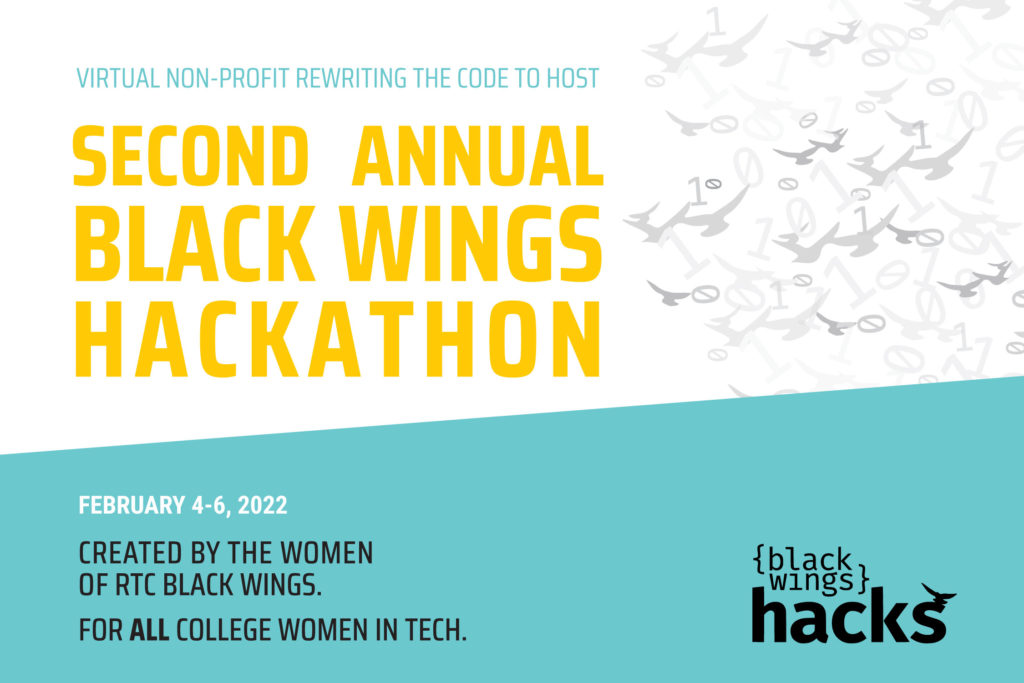 Inaugural event hosted 50 teams of technology focused college women
Durham, NC – Rewriting the Code is pleased to announce the second annual Black Wings Hacks. The hackathon is an inclusive event open to any college woman pursuing a tech-related major. Hosted virtually, via the Hopin and Discord platforms, students will participate in teams to build technical projects that showcase their skills. Attendees will have opportunities to enhance these skills with mentors and by attending workshops hosted by sponsor companies.
Though the event was created by student leadership from RTC Black Wings, a sub community of over 1,300 Black RTC members from 215+ universities, the full Rewriting the Code community of over 14,000 women from 800 universities and 81 countries are invited. This is a free virtual event that is created for tech focused college woman. The keynote speaker kicking off the event is eBay Vice President of Fashion, Charis Marquez. A few of the sponsoring companies that will be providing mentorship and hosting workshops include 3M, GoDaddy, Roku, Capital One, Lyft, Accenture, Pinterest and Duolingo. =
Governess Simpson from the U of MN and Fawziyah Alebiosu of the U of Maryland are two of the six student leaders that conceived, organized, and executed last year's event and are expanding a few areas for this year's Hackathon. "We are happy to once again have such a great response from our sponsor companies. The attendees receive personal mentorship and real-world education as they gain competence and confidence in their tech skills," said Simpson. "When Rewriting the Code founder Sue Harnett said she wants this event to be student led, she meant it! As a junior in college, I've never had adults trust me with so much money, responsibility, and impact in my life. They provided the platform and the support, and we created the exact event that we think college women in tech need," Alebiosu remarked.
The other current RTC Black Wings leaders include Anais Lawson (Columbia University), Jasmine Lee (Drexel University) and Miracle Etim-Andy (Catawba College). Over the course of the weekend, attendees will break into teams, usually 4-6 women in size, and create solutions to technology issues ranging from custom apps to websites. At the closing ceremony, teams will present their projects to the judges to compete for a first, second or third-place finish and prizes. This year's Hack-a-Thon brings an expansion in award categories. This change reflects the broad range of coding skills and experience participants bring to the event. Hackathon event schedule found here.
---
Rewriting the Code is a 501(c)(3) nonprofit organization that has developed a community of exceptional college women with a passion for technology. RTC empowers women to become the next generation of engineers and tech leaders by providing community, industry education, professional and personal development, and hands-on experience through partnership with companies across North America.