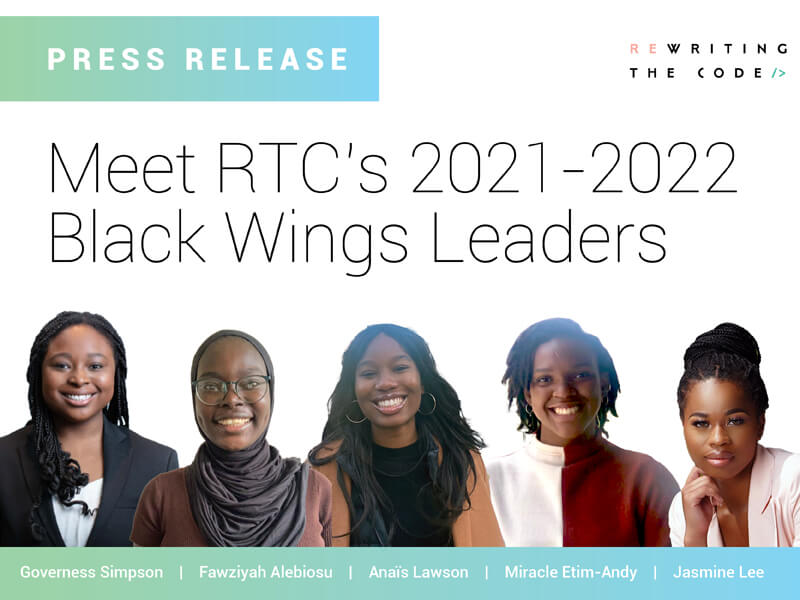 Durham, NC – August 11, 2021
For immediate release: As our Rewriting the Code community continues to grow, we have also seen growth in our intersectional groups, created to support the specific needs of different groups of women. The leaders of our Black Wings group for 2020-2021 led the charge on a variety of programs, including our first-ever hackathon in February of this year. However, with the changing of the school year, we had to say goodbye to four of these amazing leaders, including Marissa Jenkins, Yan Lawrence, Destiny Nwafor, and Paula Wambui.
The two Black Wings leaders who will be staying on for another term are Governess Simpson and Fawziyah Alebiosu, and we are pleased to welcome three new leaders who will be joining them:
Anaïs Lawson:
"I'm a rising junior at Columbia University majoring in Computer Science with an interest in pursuing more in the field of Entrepreneurship. I'm also interested in French, Medicine (Biology), and Psychology. I've been a Python TA as well as an RTC Champion, and I'm currently interning at Microsoft as an Explore Intern. I am a first-generation Togolese-American as well as a first-generation low-income student and Questbridge Scholar. In my free time, I enjoy watching Netflix/Hulu and listening to various podcasts. I grew up in Lawrenceville, Georgia, and Anderson, South Carolina. I'm very excited to be part of the Black Wings community and looking forward to this new year!"
Miracle Etim-Andy:
"I am super excited to join Black Wings leadership. I am a Junior at Catawba College double majoring in Exercise Science and Computer Science. Outside of classes, I am involved in SGA, BSU, and African Club. I am also a discus thrower on the Track and Field team. In my free time, I like to listen to music and try new foods. One day I hope to receive my PhD and become a research scientist."
Jasmine Lee:
"I'm an undergraduate, Management Information Systems major at Drexel University. Being a Diversity and Inclusion advocate reinforced to me how vital it is to be committed to ensuring that people can thrive in every environment and embrace these differences that make every one of us unique. Throughout my time at this college, I have made strides to put myself in positions where I can learn from different perspectives and help others transition to new environments. The combination of my drive to succeed, technical skills, passion for helping people, and professional experiences are what motivates me to pursue a career in technology consulting."
This leadership group is already working on a number of exciting initiatives for the upcoming year, and are excited to support the Black Wings community. Congratulations to Governess, Fawziyah, Anaïs, Miracle, and Jasmine, and we can't wait to see all of the amazing things Black Wings has in store for the 2021-2022 school year!
About Rewriting the Code: Rewriting the Code is a 501(c)(3) nonprofit organization that has developed a community of exceptional college women with a passion for technology. RTC empowers women to become the next generation of engineers and tech leaders by providing community, industry education, professional and personal development, and hands-on experience though partnership with companies across North America.