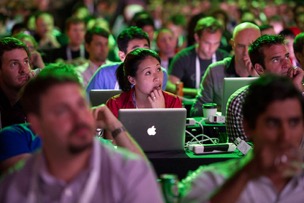 We all know the facts.
There's a shortage of women in the tech. Pay inequality is rampant. Women are statistically less likely to receive promotions. It's hard being an ambitious lady in this industry.
What makes you different from your male peers? Don't worry, you bring a lot of great skills to the table. Here's what you can as a woman in tech to stand out and build your confidence in a male-dominated workplace:
Be Professional…
Kind of a no brainer (you are at work after all), but you would be surprised how often people forget this. What's considered "professional" tends to vary from company to company. Some employee policies are implied, such as calling your manager when you're running late. Others, like a dress code, are typically written and distributed to all new employees. Take some time to figure out the norms in your office.
Another aspect of professionalism is how you act at work. Try to avoid office gossip. Additionally, keeping your relationships professional communicates that you are serious about your job.
But don't treat your co-workers differently
In general, women tend to have no problem standing up to their partners. Why are we afraid to do the same at work? Take some time to think about how you communicate with your bosses, co-workers, and peers. Is there a big difference? Respect is important, but don't be afraid to stand up for yourself.
Be eager to learn…
That's why you're there! Push yourself to more than just "good enough", show your employer that you're great! Don't be afraid to try new things and push yourself to always be working towards a goal. This will improve your performance and productivity, setting you up for success in the tech industry.
But don't be afraid to say "No"
Women are notoriously bad at saying no. Don't be afraid to step back and think, "Is this part of my job description? Are my unique skills being used?". This also includes when you are too busy to take on another task. Find a balance between being nice to others and nice to yourself. Make sure you speak up when you are overloaded or need help.
Go the Extra Mile…
Women in tech may feel invisible, but by continuing to exceed expectations you are sure to stand out amongst your peers. Feel free to contribute on big projects while always ensuring you're acting as a team player. In the office you want to build a reputation as someone who gets things done, thinks critically, does excellent work and then your results do the talking from there.
But don't force yourself to be a Perfectionist
Women tend to put an incredible amount of thought and effort into their ideas. We hold ourselves to a high standard of quality when it comes to our work. However, the tech space is changing constantly and you don't want to be left behind. Jump in and present your ideas as they come and don't be afraid to be wrong (it's all part of the process). Tech companies are known for encouraging discussion and collaboration, and you need to participate to feel valued.
Know your Worth
Women bring a lot to the tech industry. Tech companies desperately need employees with different backgrounds, perspectives, and skill sets. It can be intimidating for a woman to enter a male-dominated workplace. However this lack of confidence can be combated. Be good at what you do and recognize the skills you may need to build. As your skills grow and you become more comfortable with how things work, your confidence will naturally grow over time.
And don't be afraid of having Power
Women tend to have a negative view of "having power". Humans in general think about power in the sense of dominating and women, as they probably should, have a problem with this. However we need to start thinking of power as being earned. The power to enact action is given based on accomplishments, education, and value (it's not a freebee). There is nothing wrong with accepting a promotion, additional responsibility, and the power that comes with all of these things. Use it to your advantage, you earned it!
The male dominated tech field can be intimidating, but don't be afraid to stand up for yourself and jump right into your work. You have all of the knowledge and abilities to thrive in this exciting industry.
– Lindsey Ferretti, 2019 RTC Fellow