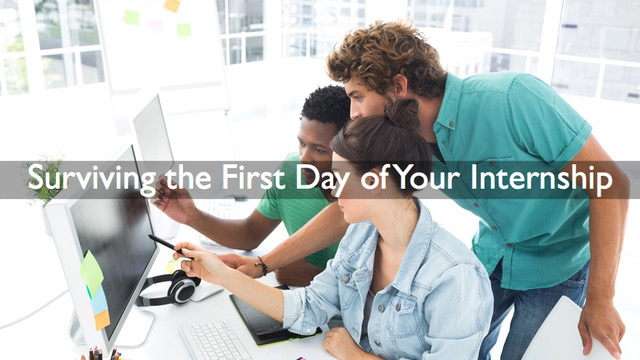 Congratulations! You got yourself an internship!
As the beginning of the internship season approaches, the sense of security and euphoria you've been basking in since you accepted the offer starts to turn into a bundle of nervousness and uncertainty at the prospect of starting a new job. At least, this was my experience when I was starting my internship this past summer. The beginning of any internship can be quite intimidating; it is difficult to start a new job with an unfamiliar company (which is sometimes located in an unfamiliar city/state). However, first days don't have to be scary; knowing what to expect and how to prepare can ease fears many interns experience on their first day. Here are some tips to having a successful first day of your internship:
Before Your First Day
● Moving in: Regardless if your internship is ten minutes from your house or all the way across the country, it is a good idea to move into your internship housing a day or two before your internship begins. Having some time to settle into your housing and getting to know the area around the company's campus takes some of the stress off your first day.
● Reach out to other interns: If you're in corporate housing, there are usually other interns in the same building, if not in the same apartment. Meet some of the other interns, and perhaps make some friends to go to work with on your first day! If you were unable to find other interns, don't sweat it; there will be plenty of opportunities in the future to network with others throughout your internship. Use the RTC City Groups and Member Finder, or try finding a Facebook group for the interns at your company and see if there are any group chats or Slack channels!
● Plan your route to the office: Take some time the night before your first day of work to plan how you're going to get to the office (car, bus, bike, etc.). Plan to get there at least a half an hour earlier than you would on a typical work day to give yourself time to navigate to the correct place.
● Don't forget about orientation: Orientation is usually when you learn about the logistics for the rest of your internship and get setup as an employee of the company. For my internship, this is when I received my employee badge, bus pass, and best of all, company-themed swap! Different companies hold their orientation at different times. Some are held the day before an intern's first day of work, some are held in the morning, and sometimes there is no formal orientation process at all. If there is orientation, make sure the time and location (my orientation was held in a completely different city than the office building I spent my internship in).
● Get a good night's rest: This may sound extremely cliché, but try not to stress too much over your first day, and make sure you get enough sleep! It's unlikely that your team will give you very much work on your first day. You'll probably spend most of your day meeting new people, so try to be well-rested so you can be on top of your networking game!
Your First Day
● What to expect: You'll spend most of your day meeting the team, setting up your workstation, and doing other on-boarding tasks. You probably won't do a lot of "actual" work on your first day, so take this opportunity to gain your bearings and tackle the daunting task of remembering everybody's name (if you're bad at remembering names like I am, try seeing if your company has an internal directory. You might be able to find your team and, if you're lucky, there might be pictures that can help you match faces with names).
● What to wear: If the company has specified a dress code, follow it! However, most companies probably won't care what you wear (I spent most of my past internship in a T-shirt and jeans). If you are feeling unsure, you can never go wrong with dressing up. I personally like to wear business casual (skirt and blouse) on my first day of work but choose whatever clothing is most comfortable for you!
● What to bring: There usually isn't a lot to bring on your first day since you'll be receiving most of the technology you need during your internship. I always like to bring good old-fashion pen and paper to use to take notes before I receive my work laptop. Make sure to check with your recruiter to determine if you have to bring any additional documents with you. It's also a good idea to bring money with you for lunch; sometimes the food is free, sometimes your team will pay for it for your first day, but it's always better to be safe than hungry.
Following these tips should help you have a great start to your internship. After your first day, it is perfectly normal to still feel a bit overwhelmed, but remember that your team is always there to help you through any issues you may encounter along the way. Your internship is meant to be a learning experience, so don't be afraid to ask questions, explore the company, and make new connection as you begin your journey after your successful first day!
-Holly Ham, RTC Fellow + UC San Diego Sophomore
Rewriting the Code – Empowering College Women in Tech