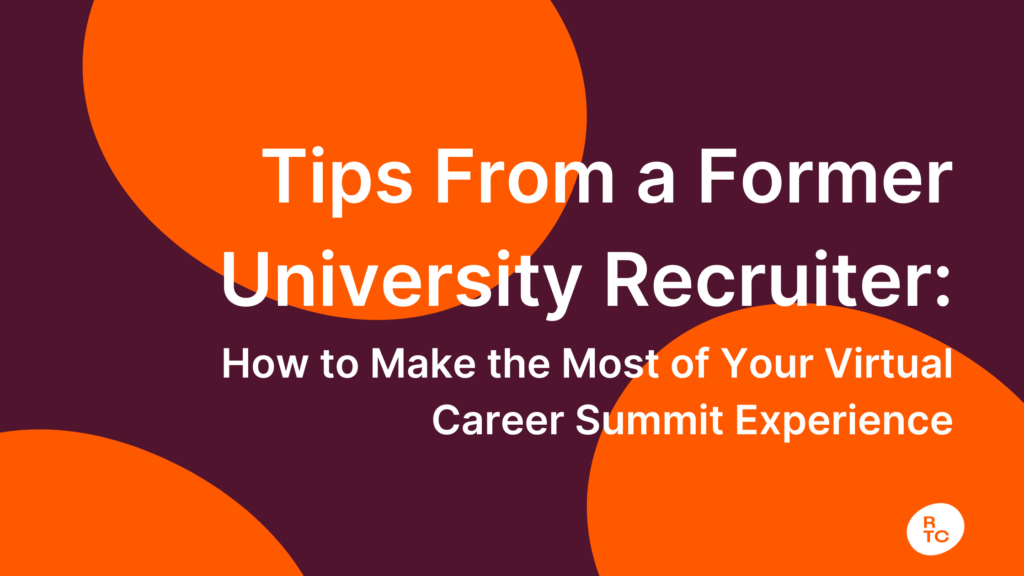 Written by Nicole Wright, the Director of Partner Engagement at Rewriting the Code.
As the summer winds down, the thought of transitioning back to school while simultaneously planning and participating in the fall recruiting season can be anxiety-inducing. According to our June Member Pulse survey, RTC members indicated that their top concern for the summer is preparing for the next recruiting cycle.
RTC is here to help with our top recruiter tips to make embarking on recruiting season less nerve-racking! While these tips are specific to RTC's Virtual Career Summit, you can translate many of these to other in-person conferences you plan to attend later this year. Haven't registered yet for the Virtual Career Summit? There is still time! Register here by August 7th, 2023.
These tips are split into three buckets: Pre-Event, During the Event, and Post-Event, and all are equally important. To get the most out of your Career Summit experience, planning before the event begins is mission-critical. Follow along to make the most out of your Summit experience:
Pre-event
Update your resume, LinkedIn (& Github/Portfolio if applicable), and craft the perfect elevator pitch.

Did you know RTC hosts resume review sessions and Recruiting Ramp-up events co-hosted by our industry partners, many of whom will be attending the Virtual Career Summit (VCS) themselves? These sessions are the perfect opportunity to get everything updated and tailored to the companies you'll be meeting!

Define your personal and professional goals for the event.

For example, a personal goal for the event might be to grow your peer network by introducing yourself to at least three RTC women.
Or, a personal goal could be to replace a negative thought with a positive thought if you start to feel discouraged. Like this:

Negative thought: "I don't have enough experience to even chat with a recruiter."
Truth thought: "These recruiters are here to meet women like me. I am unique, and I have something to offer. I belong here."

An example of a professional goal might be to practice your elevator pitch to at least three recruiters.
Or, a professional goal could be to identify companies that align with your values and make a plan to connect with those companies during the event.

Make a plan to attend panels aligned with your goals. If you're up to it, consider preparing a question or two for the panelists.

Pro tip: Scope out their LinkedIn in advance!

Research the companies that will be in attendance and make a plan to connect with those that align with your career goals and values.

While you may not have time to connect with every company – it's also worth remaining open-minded about those you are less familiar with! Speaking to booth reps can help give you a better view of the company than just reading their website or company page.

Prepare questions for the company reps to help get you the answers you need before applying for opportunities or starting the interview process.

If you want to stand out, ask questions that cannot easily be found at the company's booth or career site and/or questions based on a recent product release or noteworthy article that resonates with you.
Make sure to read the prep emails sent from RTC Staff leading up to the event. This content will share important announcements and guide you in navigating through the Virtual Career Summit.
During the event
Attend the panels and booths you identified, and write down the names and companies of all panelists and company representatives you meet.
Be prepared to introduce yourself with your elevator pitch and ask pre-planned questions, including asking for recruiting timelines. Ask the booth reps for a company email address so you can follow up after the fair/conference/summit.

Remember that these interactions are meant to be conversations, not quick-fire question rounds! Ensure you're engaging with the booth rep on a human level, too – they could be your co-workers one day!
Target your questions to the person you are speaking to — a Recruiter or HR rep might not be best placed to answer questions about technical product details, while an engineer might not be able to outline each stage of the recruiting process.

Make sure to RSVP/check in at each booth; this is the best way for the company to record your interest and contact you with recruiting events and opportunities.

Please note: Each company will have their own RSVP/Check-in form at their booth. Completing their Company-specific form is the easiest way for them to stay in touch with you.

Keep tabs on the conference chat for special announcements from RTC staff and company representatives.
Connect with other attendees you meet by following up with them on LinkedIn or sending a Slack DM.
After the event
Connect with panelists and recruiters on LinkedIn by sending a connection request with a personalized note about their participation in the event. 
Send a personalized email to the recruiting teams, thanking them for their time, reiterating your interest in their company, including something that stood out to you (mission, values, special speaker, etc), and including your resume.

Let them know if you plan to apply for a specific role! It would be even better if you could say when you'll submit your application e.g., 'I will be applying to your data engineer internship role in Seattle this weekend.' That way, recruiters can keep an eye out for your application.
Pro Tip: Consider including your Rewriting the Code membership on your resume in the "Activities/Clubs/Organizations" section. You should consider adding that to your "experiences" section if you have served in a leadership capacity.

Continue to follow teamRTC and related Slack channels to make a note of any upcoming events, especially from companies you are most interested in.
Regularly monitor the teamRTC job board for new opportunities.

Did you know we are upgrading teamRTC to be an even more powerful recruiting platform? Coming soon is a more robust job board with enhanced search capabilities and the ability to favorite and follow companies!
Nicole Wright is the Director of Partner Engagement at Rewriting the Code. Before joining RTC, she worked in the University Recruiting space for 6.5 years at private and public tech companies. Nicole is passionate about creating meaningful recruiting and work experiences for early career talent. As a first-generation college grad, she hopes to develop guidance and clarity for students navigating their first career and professional life after college.
Stay connected with RTC through Instagram, Facebook, and LinkedIn, or join our community of 18,000+ women in tech at teamRTC.org.