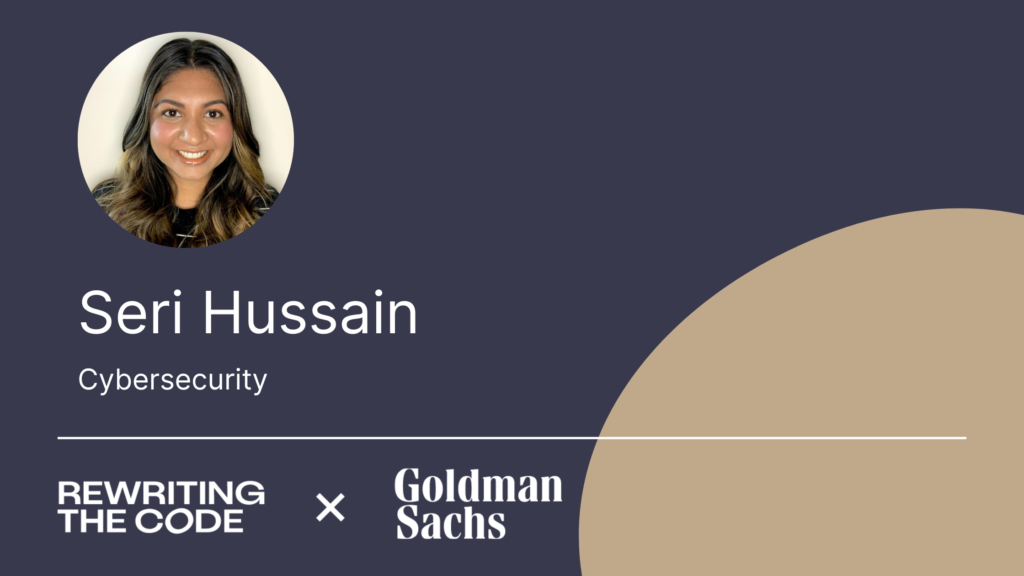 Walking a New Path
My life before joining Goldman Sachs was quite different than one might expect. I completed my undergraduate degree in education and was a middle school science teacher for a couple of years before I decided to pursue a master's degree in computer science. The change was a scary one to make. To leave what you know behind and start over can be intimidating, but I knew I wanted to explore a different sort of challenge in my career, and I'm glad that I had the courage to do it.
Coming from a non-STEM background, there were many prerequisites that I had to complete before starting my degree plan. While taking these courses, I was also trying to discern which path of computer science and engineering I was interested in chasing—a difficult feat as there are so many applicable avenues to walk down within the subject area.
My personal goal, as both a teacher and in my current career, has always been to contribute to change and growth in our society. I wanted to do something that had a real effect on the well-being of the world, and it was for this exact reason why I was drawn to the field of cybersecurity.
Not only is the subject interesting and multifaceted, but there is an exponentially growing need for people in this field as cyber-attacks and exploits become increasingly prevalent across the globe. I am able to contribute to the safety of our digital environments, a crucial role in a space where we all invest copious amounts of time and resources. Not to mention, I get the opportunity to take on some real challenges and do fascinating work.
From Summer Intern to Full-Time Analyst
In the summer of 2021, I joined Goldman Sachs as an intern on the Global Cyber Defense and Intelligence (GCDI) team in Dallas and got the chance to work hands-on in the cybersecurity space. In GCDI, our main focus is protecting the firm from any malicious attacks, whether that means preemptively looking for vulnerabilities in our systems, or responding to incidents and mitigating live threats.
There are multiple facets of the team such as developing detections for our sensors so that we can catch any suspicious activity right away, or automating large portions of our investigation and remediation process in order to increase team productivity. Unlike many software development roles, we aren't building applications, but instead, our development focuses on creating processes to help prevent and respond to security incidents as quickly and efficiently as possible.
To be honest, I was initially apprehensive about joining the Engineering team — worried that coming from such a different background I would feel like a fish out of water. But that could not be farther from the truth. I was welcomed and supported by my team and given every resource to help me be successful in my projects.
As the first couple weeks of my internship went by and I began to sink into my new role, I realized that my unique viewpoint was valued as it brought something new to the table—a different way of approaching and looking at things. And, it was because of this and the people-oriented culture of the firm, that I decided to come back full-time in October 2021.
So, What Do You Do?
I did my internship on the same team that I currently sit on, which is the Security Orchestration Automation and Response (SOAR) team. Specifically, within that team I focus on digital forensics. The word might be more familiar to you in the connotation of law enforcement, but the definition holds true within the cybersecurity world as well.
As a forensic investigator might do an analysis on a crime scene, we do the same for a security incident. Following an incident, we look for patterns and evidence to inform our team on what controls we need to focus on to ensure this doesn't happen again.
I am also focused on automating the processes we have so that time is better spent on the analysis and response phases as opposed to evidence collection. This entails writing scripts and collaborating with other teams to create a smooth pipeline of information.
Personally, I believe it's good to get involved outside of the bubble of your projects and daily tasks. Doing this allows you to gain new skills, and work with others you might not have had the chance to before, thus giving you increased visibility and the opportunity to learn more about how you can better contribute to the positive growth of the firm.
Some of the facets I'm involved in include: our internal training team, where I help organize monthly training exercises; recruitment events for Dallas Engineering where I sit on a panel to share my experience at the firm and answer any questions from prospective interns or new hires; and the affinity networks, which are diversity groups that support and celebrate minorities within the firm, of which I am a member of several.
The Future is Female
One of the most significant networks to me is Women in Engineering (WE). When I first started out as an intern, WE assigned me a mentor who was there for me throughout the whole internship. We had weekly meetings where I could talk freely about any questions I had, ask her for career advice, or even just chat about our days. She was also an excellent resource who helped me expand my network via introductions and connections to other women engineers.
Beyond the mentorship program, WE arranges many roundtables and fireside chats with inspiring leaders across the firm. I recently joined a Dallas WE roundtable with our Chief Information Officer and had the opportunity to discuss with him what the firm is doing at large to better support women in this field.
Although there are increasing numbers of women in leadership roles across Goldman Sachs Engineering, as well as supportive programs and resources dedicated to the retention and growth of our women engineers—I am eager to see how the continued influx of women in this field will transform the industry even further. Engineering is certainly an exciting place to be, and I personally couldn't be happier that I made the move and found myself working alongside such inspiring people in a constantly evolving and innovative industry.
Seri is an analyst working in a cybersecurity role. Cybersecurity engineers at Goldman Sachs protect our clients and the integrity of our firm in both an advisory and engineering capacity. Read more about our engineering roles at https://www.goldmansachs.com/careers/divisions/engineering/.  
See https://www.gs.com/disclaimer/global_email for important risk disclosures, conflicts of interest, and other terms and conditions relating to this blog and your reliance on information contained in it.
SOCIAL NETWORK INFO
Instagram @goldmansachs
Twitter @goldmansachs, @gsdeveloper, @gscareers
RESOURCES
Your Guide to HackerRank Success
RTC Fellow's Internship Experience
To read more stories in the Goldman Sachs Blog Series visit https://rewritingthecode.org/goldmansachs/.