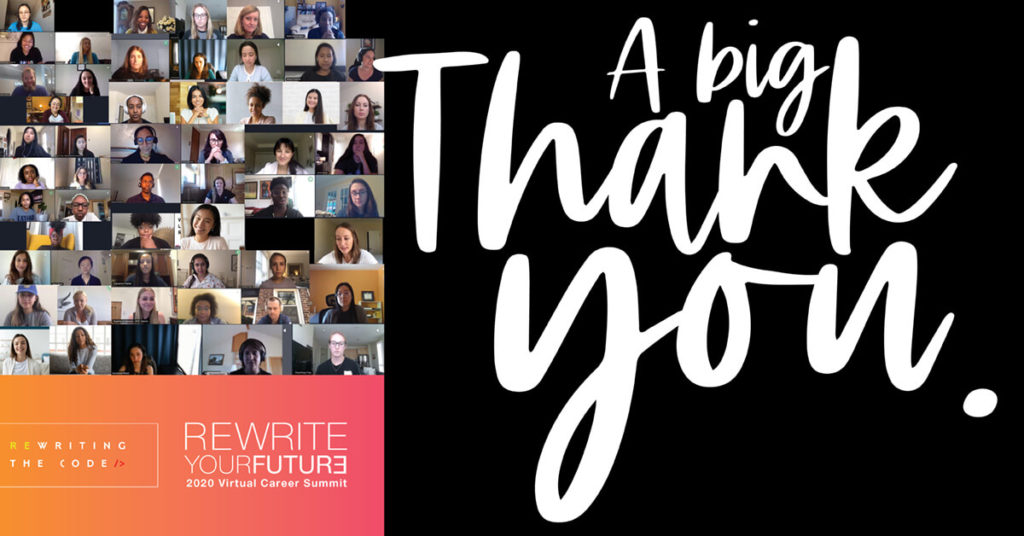 The first ever Rewrite Your Future Virtual Career Summit was a great success this past weekend.
Over 2,000 college women and recent graduates in tech participated in the sessions, including diversity panels, company meet-ups, and virtual coffee chats, as well as networking with peers and partner companies.
The students and company participants had many amazing things to say about their experiences:
Akanksha Chaudhari posted to LinkedIn: "I enjoyed this virtual experience to the fullest, perhaps even more so than an in person career fair because of the lovely conversations, amazing structure and organization, and super friendly professionals who came out and also put this event together."
Victoria Garner from Bandwidth, Inc, posted: "Every young lady that I spoke to was articulate, passionate, driven, and seriously left me speechless. I am constantly blown away by the sheer amount of talent that is going to be entering the workforce in the coming years."
Thanks once again to our partners (shown below), without whom we couldn't have held the summit, and to the students, without whom we wouldn't have Rewriting the Code.
-Team RTC
Rewriting the Code 2020 Virtual Career Summit proudly supported by:
Bandwidth
Bank of America
BlackRock
Bose Corporation
Datadog
Duolingo
Fidelity Investments
Figma
Flatiron Health
General Electric
Goldman Sachs
IMC Trading
InternMakers
JP Morgan Chase
Juniper Networks
Lyft
McKesson
MongoDB
Morgan Stanley
The New York Times
NVIDIA
Palantir Technologies
Pearson
PIMCO
Plaid
Robinhood
Roblox
RTI International
Spotify
Travelers
Workday