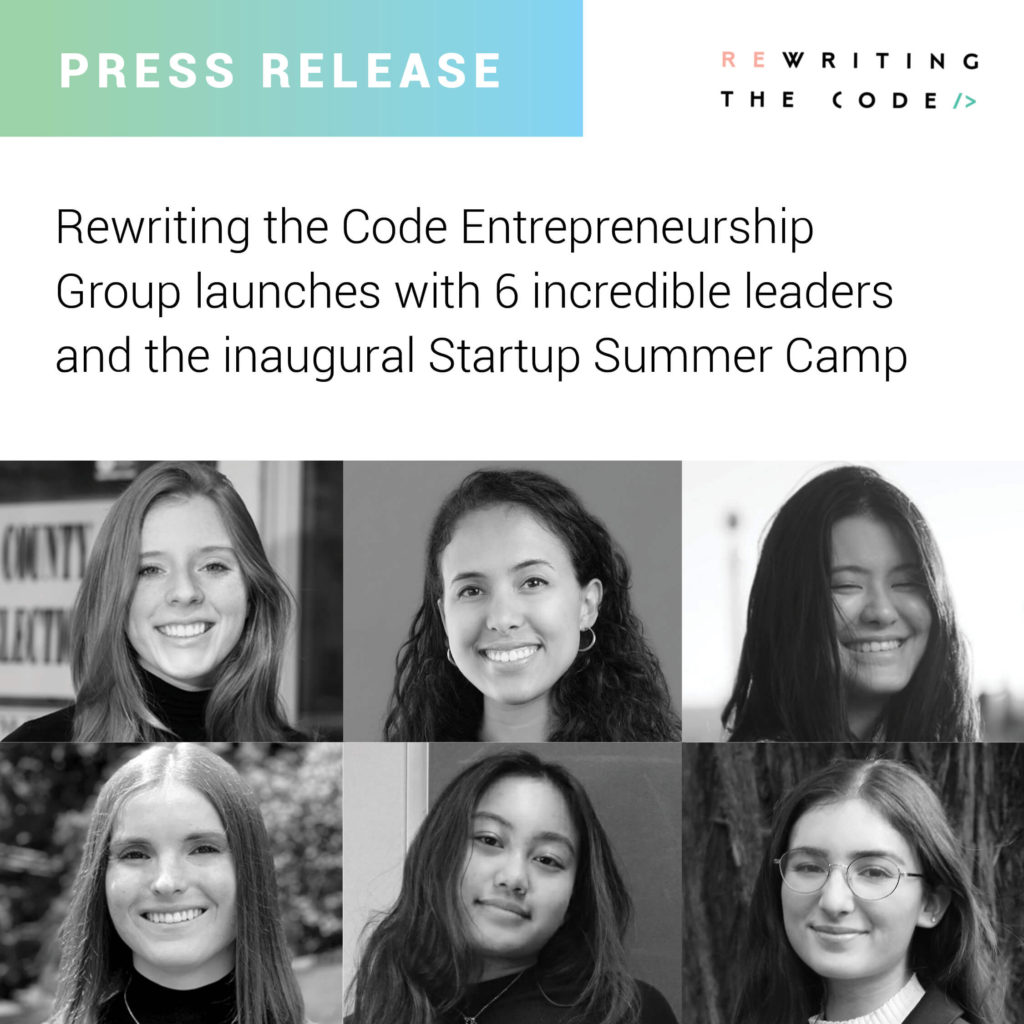 Durham, NC – May 12, 2021
For immediate release: With a community of over 12,500+ women, RTC's students and alumni have varied and vast career path interests. As an organization, we are always looking for ways to meet these interests with programs and opportunities. In January 2021, 640 women joined RTC's newly created Entrepreneurship Group to help foster and further those interests.
"The possibilities in this area are wide-ranging," said Sue Harnett, Founder and President of Rewriting the Code. "The group leadership has plenty of ideas, including understanding funding models, gaining exposure and experience to early-stage companies, hearing the stories of women founders, and developing their own product and service solutions."
The six Entrepreneurship Group leaders were chosen from 110 applicants, and include two alumni and four current undergraduates. They each have a variety of impressive accomplishments, and they all share a passion for entrepreneurship:
Juliana Bain graduated from Cornell in May 2020. She is a software engineer at Twitter and the founder of Voteology, a non-profit that helps college students vote with maximum impact.
Gwen Goins is a senior at Vanderbilt University studying engineering science and computer science. When she's not researching tech trends, she generates digital art using GANs.
Yuting Jiang is a junior at the University of Michigan – Ann Arbor studying Computer Science and Statistics with Honors. She's passionate about entrepreneurship and building products of impact.
Alexa Murray is a Product Manager for Goldman Sachs. In 2019 she co-founded Schedulete, smart scheduling software for college coaches, and she uses her blog, runningbysix.com, to highlight rockstar founders in the natural foods, fitness, and wellness industries.
Chloe Quijano is studying Engineering Science at the University of Toronto, majoring in Electrical & Computer Engineering. She brings a Canadian perspective to the Entrepreneurship group, has created her own startup, and works with other women-led startups in her free time.
Daniela Velez is on a gap year from studying Computer Science at MIT as she works on a startup and interns in software engineering at Facebook. She is passionate about social impact entrepreneurship and empowering minority startup founders.
This leadership group is already working on a number of exciting initiatives to increase the community's knowledge and connections. One such initiative is the launch of the inaugural Startup Summer Camp. RTC undergraduate and graduate students and alumni are invited to participate in a 6-8 week program with two tracks offered in each session: Current Founders and Aspiring Founders. The time commitment is estimated at 2 hours per week to allow for self-paced classes through Coursera and Y Combinator and an hour of meetup for discussion. Participants will also have the opportunity to attend exclusive panels and webinars with founders, funders, and thought leaders in the entrepreneurship community. Additionally, the Summer Camp will provide networking opportunities with RTC women and industry professionals.
Session Dates: June 1st – July 22nd or July 1st – August 23rd
The Startup Summer Camp is free to all RTC Members. For more information and Summer Camp registration, visit TeamRTC.org and join the Entrepreneurship Group! 
About Rewriting the Code: Rewriting the Code is a 501(c)(3) nonprofit organization that has developed a community of exceptional college women with a passion for technology. RTC empowers women to become the next generation of engineers and tech leaders by providing community, industry education, professional and personal development, and hands-on experience though partnership with companies across North America.