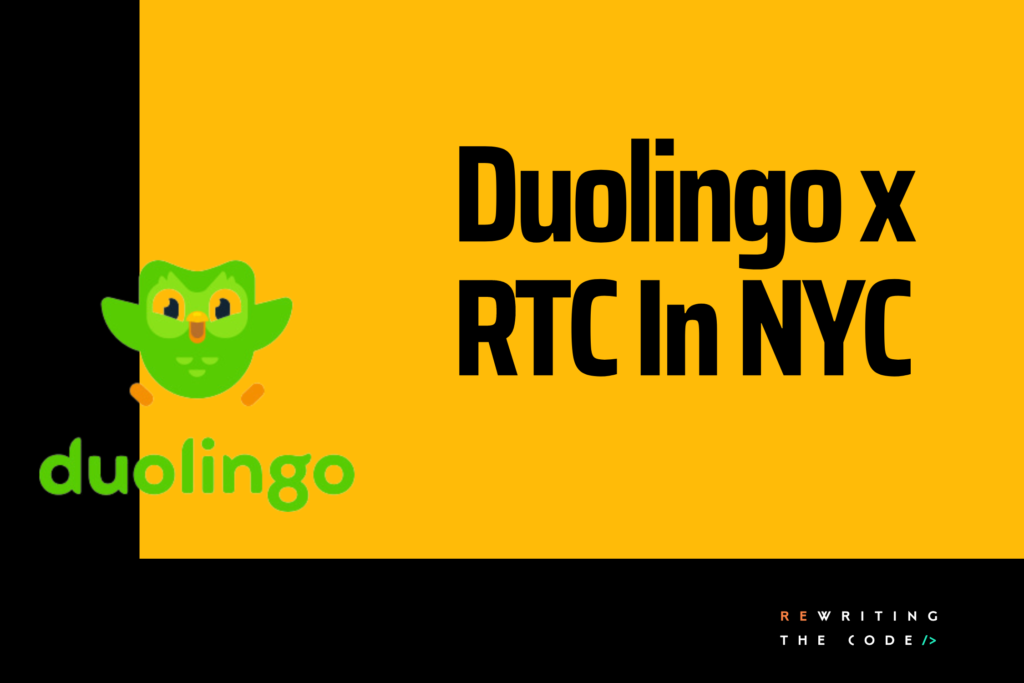 by Ruth Hammond Class of: 2023 University: Rose-Hulman Institute of Technology Major: Mechanical Engineering (Computer Science minor)
Recently, I had the amazing opportunity to visit the Duolingo NYC office. Although I was a little nervous about what to expect, my first steps onto the floor were met with warm greetings from Brittany Mitlo, University Recruiting Manager for Duolingo. Brittany was so friendly and welcoming that it immediately put me at ease. After Brittany welcomed me, I saw all the colorful and cozy seating including hammock swings with the skyline of New York City in the background. It was the most beautiful office space I had ever seen!
Soon after, I settled into the conversation pit couch- yes, a literal couch "pit" cut into the floor- where a bunch of RTC women were already chatting. After we introduced ourselves, we talked about literally everything – the exciting stuff we were doing in our internships, fun things we found to do in the city, and got to know a little bit about the recruiters. There were women from small and large schools, those who were local, and those from other countries! There were freshman all the way to graduate students. It was so cool to interact with such a diverse group of women! Most of my time with RTC has been virtual, so it was such a surreal experience to meet members of the community in person. Before joining RTC, most of my network was made up of men. Thanks to RTC, now many of my close contacts are women who share some of the same experiences, tech interests, and goals.
After everyone arrived, we started off on a personal tour of the office. But then, a special visitor appeared – THE DUOLINGO OWL!!! We were all ecstatic to meet Duo! The neon green owl! Like true fans, we all lined up to take photos complete with funny poses with our favorite owl mascot. Taking pictures with Duo has quite literally been the highlight of my summer so far! After pictures and high-fives, we continued the office tour (including grabbing snacks and drinks from their free snack station).
This slideshow requires JavaScript.
Duolingo's office space gives you great insight into their company culture. The space is open, clean, inviting, bright, and truly encourages employees to collaborate cross-functionally and in a meaningful way. These are exactly the features I am looking for in an employer! The meeting rooms are visible through large panes of glass where you can see the company core values displayed throughout the office. The values that really stuck with me were how Duolingo expects employees to put the learners first, test everything as much as possible, and be kind.
Some of the desks had little Duo plushies on them and there were arcade consoles throughout the office. You can tell that working at Duolingo is a lot like being on the app – you are able to accomplish amazing tasks while still having a lot of fun.
After the tour, we ate dinner in small groups, each with our own Duo hosts. The Duos talked about their company experience and encouraged us to ask any questions. I chatted with a Duo technical recruiter, a Duo software engineer that works on app stability, and a Duo software engineering intern.
They each had such amazing things to share and really helped expand my already great impression of Duolingo. For example, I learned about their award-winning internship program, what they look for during the hiring process, and what it is like to work at Duolingo. I was excited to hear the amazing perks of working at Duolingo that you can't get at other tech companies – like having lunch with the CEO or the annual company vacation. Most of those I met had left big and notable tech companies to find a home at Duolingo and noticeably liked Duolingo better. I could tell they genuinely find their work meaningful and enjoy what they do, which was refreshing for me to see.
The visit to Duolingo completely changed my view on what working in tech could be like. Tech can sometimes have a reputation for being demanding and grueling, but to see a company that actively defies that practice for their employees was amazing. As I look for a full-time role after graduation, I am now considering the type of environment I want to work in and the meaningfulness of the work I would be doing. I am so grateful to RTC for this truly once-in-a-lifetime experience. They have always pushed the boundaries of what I think is possible for women in tech and will continue to do so in the future.