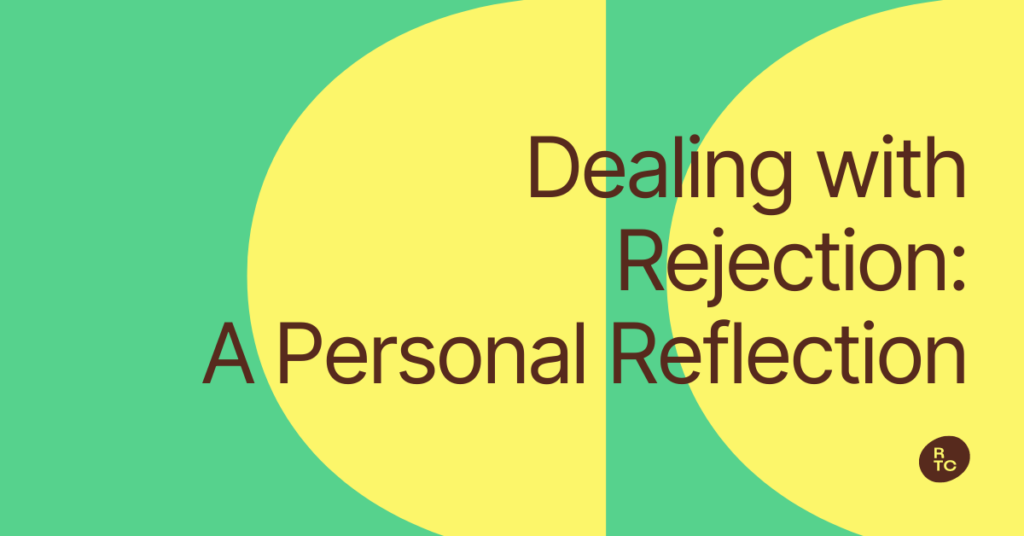 Written by RTC member Ly Na Nguyen, reposted with permission.
We've all been there — waking up to the cold, soulless emails about these mysterious "other candidates" that the company has chosen to move forward with. Not going to lie, I've definitely stayed in bed for an extra 15–30 minutes every time I got one of those — or a chain of those. I've applied to many things, mostly out of curiosity and potential opportunities they bring, and proportionally, I've had my fair share of rejection emails (scholarships, internships, diversity programs… You name it, I've probably been rejected from it). Fun fact: I've made it to the final round and got rejected by Apple >3 times in one season. 🍎
I've also done a lot of coffee chats — with students, industry leaders, academic researchers, or people who do work I feel interested in. Most people often comment about the many things I have posted on LinkedIn. What they haven't seen, however, are the many "no's" behind those "yeses." Freshly-graduated-high-school me two years ago would definitely be crushed by the amount of rejections I get these days. 😂
But, I'll tell you a secret: I'm proud of these rejections, and I'm proud of you, too, for going through this process. It shows that we've stepped outside our comfort zone, explored the opportunities available to us, and most importantly, been vulnerable by putting ourselves out there — our history, accomplishments, and even personal stories. For this, I'm proud of us.
This piece is not just a personal reflection of the many things I've learned from those who have gone through this process before me, but it's also a taste of my own experience. I hope to share the many ways I learned to embrace the process and reframe my way of thinking about it — as authentic and unfiltered as humanly possible, all in a bite-sized format. 😋
🌱 101's Rejection Guidebook: 🌱
👏Detaching your self-worth from the process. Imposter syndrome can be real, but so are the many many factors that went behind a decision that are out of your control. I'm definitely guilty of feeling "not good enough" many times — "if only I had the right experience" or "if only I reworded this differently in an interview." But as long as you do your best and keep on incrementally improving each day, know that there'll be a perfect opportunity coming to you soon. 👏
💤 It's ok to take time to yourself. Not every waking moment has to be a grind. I often found my most productive moments are those when I have enough rest. Sure, some days may have 1 or 2 hours less than each other, but sleep is truly a mechanism for our body to heal, our cells to repair, and our neurons to rejuvenate, so please don't underestimate the power of a good night's sleep. 💤
🌈 Enjoy the process. To me, life is about experiencing and truly immersing yourself in the process of learning. A friend often jokes how I'm speed-running life with how many things I juggle at once, but if I have to tell you one thing, I can only juggle those because I truly enjoy doing them — from organizing events to promoting diversity within the campus environment. And thus, understanding that each application is only a means to my end goal has truly helped me keep on embracing my passions! 🌈
🙌 Reframe rejection in another direction! Oftentimes, rejection doesn't have to mean an end to a connection. Reply to that email and thank the recruiters for their time and consideration. Express your continual interest, and ask if there are other related opportunities they'll be willing to share. You'll be surprised. 🙌
☀️Know that you are AMAZING for putting yourself out there and applying. Trust the process! Thank you for taking chances on yourself. And believe me when I say this, everything will work out at the end. Keep applying, you are getting closer to that "yes"! As always, the worst they can say is no. ☀️
💃Lastly, join communities and find the support you need, especially communities with individuals you can relate to! For those who identify as women or non-binary, Rewriting the Code and Women in Cybersecurity are great ones you can join! (If you know of any others, please feel free to drop them in the comment below) 💃
At the end, every rejection is proof of our continual pursuit of knowledge and opportunities. To all my fellow first generation students: keep on going. We'll make it there together. ❤️‍