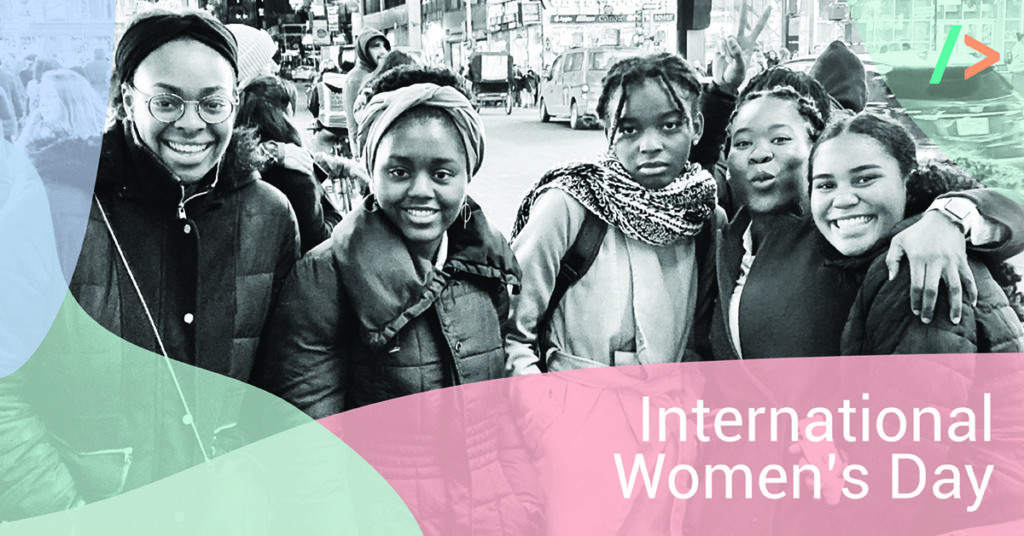 In summer 2019, five Rewriting the Code (RTC) members (pictured above: Destiny, Ingrid, Paula, Yan, and Marissa (left to right) at Times Square in January 2020) co-founded Black Wings, RTC's community for Black women in tech. Black Wings grew from 250 women in September 2019 to over 1,000 members today, with 90% coming from non-HBCUs (Historically Black Colleges and Universities) where the number of Black women students in computer science (CS) and engineering is terribly low.
After Ingrid graduated in May 2020, Destiny, Marissa, Paula, and Yan, the remaining four co-founders, have gone above and beyond the call of duty, demonstrating exceptional commitment that has fueled the growth of Black Wings during the pandemic and the Black Lives Matter (BLM) movement last summer. To celebrate their tremendous accomplishments and upcoming college graduation this May, Lucy and Alice, two RTC alumnae, chatted with them about their journey in tech and with Rewriting the Code.
How did you get into tech?
Paula: I had always wanted to be a pharmacist, but realized in my senior year of high school that it would take a really long time before I could become one, so I decided to apply to HBCUs with strong engineering programs instead. I didn't apply to PWIs (Predominantly White Institutions) because my family members who had gone to PWIs recounted their college experience as less inclusive than that of those who had gone to HBCUs. My decision to study computer science was largely due to Dr. Williams, my intro to CS professor. I still talk to him to this day. He made the learning experience so fun that it didn't feel overwhelming for people with no prior coding experience like me.
Marissa: My parents fixed computers throughout my childhood and sparked my interest in CS, but my high school teacher Ms. Evans was the reason I felt confident enough to pursue CS in college. Ms. Evans gave me space to be a leader in the classroom, put me in charge of our school's help desk, recommended me for SkillsUSA, and sent me scholarship opportunities my senior year. We all need a teacher like Ms. Evans in our life! Learning to code has been such a rewarding experience. As my intro to CS professor Mike Scott put it, I now have "lighting in my fingertips" because I can tell computers what to do.
Destiny: I can relate how a good teacher can change one's life. I had an inspirational Black instructor at Girls Who Code the summer before my senior year of high school. Besides teaching us web development, she shared with us her own story and made us believe that we could do anything we set our minds to. In college, I was once projected to get a B- in a CS class. The professor said at that time that people with predicted grades below a B should probably rethink their decision to major in CS. That pushed me even more to beat the odds and prove to myself that I could do it. I wanted my college experience to be about learning something new rather than doing what's safe and comfortable.
Yan: I was born in Jamaica to an auto-technician and an accountant. Like Paula, I thought I was going to be a doctor (my mom even wrote "Dr. Lawrence" behind a picture of me in kindergarten), but organic chemistry wasn't for me [laugh]. Because of my parents, I loved solving problems and always excelled in math. But in fall 2018 with what I thought was one year left to graduate college as an Applied Math major, a classmate of mine told me that he returned to pursue a second degree because data science was the future. I then did some research and decided that I needed to be a data engineer. It was too late to register for the intro to CS course, so I taught myself. I also didn't know we had to do internships—the only thing I knew about internships at the time was from The Devil Wears Prada—but fortunately my friend introduced me to RTC, which in turn exposed me to Grace Hopper Celebration and many other opportunities. I ended up securing a data science summer internship at NBA. It's been an exciting journey since.
What are some of the biggest challenges you've encountered as Black women in tech?
Marissa: Managing my emotions and understanding how I fit into a field where some people think my achievements are because of a diversity quota and not because of my hard work.
Yan: In college, there were always cliques—I get it; people naturally like to hang out with those who look like themselves—but there was no one like me, so I was alone. I tried being a part of other racial groups but wasn't welcomed. Within the industry, it's taxing to want to sound a certain way in order to blend in and not be seen as aggressive, though I've learned and am still learning that it's okay to bring my authentic self to work.
Paula: One challenge for me was being heard in group projects or internships where I was the only Black person. In addition, during the BLM movement last summer, people always asked me how I felt, which put me into an awkward position because I can't speak for all Black people.
Destiny: I second Yan that it was challenging to find a community within CS and engineering and feel that I really belonged when there were so few of us. I also second Paula in that even though I like to inspire other Black people, it can be tiring to get constantly called upon.
What are some of your most memorable experiences leading Black Wings?
Marissa: My first true memory with Black Wings is back in January of 2020 when the Black Wings leaders all met in person for the first time in New York while visiting Lyft. We had an amazing time getting to know each other, discovering our purpose, and having fun! Not to mention how amazing it was being in New York, eating amazing food and watching Tina on broadway. I have also loved interviewing RTC Black Wings members for committee roles and leadership positions. It's amazing seeing women in the community stepping up to be part of this organization and direct their time and efforts to supporting their peers. I've met so many incredible members through these interviews and have found even better friends. I'm also very proud of the relationships we've established with company sponsors and our students so that we can provide direct access and knowledge from the sponsors to students surrounding professional, educational, and personal development.
Yan: We had our first annual hackathon this year and it was so exciting to see that everyone was having a good time, learning new things, and receiving so many opportunities! A few people posted on Linkedin about their experience and I couldn't be any happier to know that we are making a difference. Engaging with our company partners has been key. Black Wings is a safe space for the development of Black college women in tech and I enjoy explaining to our company partners the importance of retention and not just getting them in the door. We grew Black Wings over 60% in five months! We planned workshops, social events and made sure our community had a voice.
Paula: We also host regular town halls and webinars on topics like Black women's natural hair journey, current events, what professionalism means, microaggressions, and diversity and inclusion. There was a huge need for this community. Where there is a need, people will hop on, which is part of how we were able to grow Black Wings so quickly.
What are some of your biggest challenges leading Black Wings?
Marissa: One challenge is to get members more engaged, and another is to address issues our members deal with that we ourselves deal with. In many cases we are fortunate to have RTC leadership to lean on.
Yan: One of our biggest challenges is assuring our members that this space is open, that their voices are being heard, and that they are welcomed. For a long time, our community wasn't allowed to have our voices heard, and this goes beyond the tech industry. Our social gatherings helped open people up. Another challenge is helping companies see that it takes more than just encouraging candidates to bring their authentic selves to work. Everyone wants to be celebrated and everyone wants an ally. Let's create that inclusive and supportive work environment for everyone.
Where do you see Black Wings in the future?
Yan: I envision Black Wings to be a central hub for Black women to bond and elevate each other in the future. I also see Black Wings creating exclusive partnerships with our corporate sponsors to create a pipeline to not only get our diverse women through the door but also retain them and fill the equity gap.
Marissa: Black Wings is already a community full of support and encouragement, and I believe we'll be building lasting friendships that may eventually lead to business opportunities. I'm confident that the new leadership of Black Wings will bring even greater community connections and success. These women have not only a vision and fantastic ideas but also the tenacity and gall to put action behind their words! Watch out world, Black Wings is on the rise and won't be stopping anytime soon!
After graduation, Marissa will be working as a software engineer at Expedia, Yan as a quantitative analyst at Bank of America while working on her beauty startup, Paula exploring opportunities in cybersecurity, and Destiny as a software engineer at Microsoft. They are all eager to build technical expertise, help shape the future of tech, and give back to their community by mentoring, inspiring, and empowering the next generation of Black women and women in general.