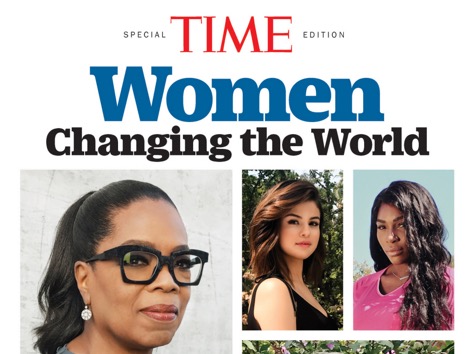 While I was standing in my university bookstore cashier line, the Time Magazine Special Edition had caught my attention. In this special issue, Time Magazine was celebrating 46 amazing women changing the world on an unprecedented scale.
I had to buy this Special Edition, and I had to read each and every single one of the 46 short stories of the revolutionary women. The stories left me speechless and determined to follow in their footsteps. As Nancy Gibbs, the first female editor in chief of Time Magazine, said: "This book… is for every woman and girl to find someone whose presence in the highest reaches of success says to them that it is safe to climb, come on up, the view is spectacular".
I found three major themes emerging in many of the stories. In my wish to share my newfound inspiration I've selected the quotes that resonated with me the most.
Women Changing the World On Different Perspectives:
We are often scared of our differences and shy away from them. It was not until I read Ursula Burns', the first black woman to run a fortune 500 company, words "Difference is generally better. So you take… the differences and use them as a strength… and you will be noticed", that I realized how empowering our differences can be.
Ava DuVernay, the first black women to direct an Oscar Nominated film, raises the same point by saying that "It's about making sure we push against tokenism and vain attempts at diversity, and push for different points of view to be centered, valued and seen". The different points of view that we all individually bring can lead to a large scale change. It was Nikki Hales, the first Indian-American female elected governor, whose parents taught her that "… the things that make you different make you special". So, let's use our differences to make a change.
Women Changing the World On Support:
It was eye opening to discover from these successful women how vital the support groups actually are to women's professional development. Loretta Lynch, the first black women to become U.S attorney general, and Ann Dunwoody, first four-star female general in the U.S Military, both touch upon the support they received from their fathers. Lynch credits her father for her success since he never gave her the impression that she was limited in any way and Dunwoody calls her father her mentor.
Some stories also demonstrate the importance of the presence of support systems within the community. Mazie Hirono, the first Asian-American women elected to the U.S senate, exemplifies the power of working alongside other women perfectly when she says "There were five democratic women running for open seats … we would campaign together…. The dynamic, the visual of all these women… it really hit people that this is a powerful gathering of women who could work together". Katrhryn Sullivan, the first American women to walk in space, also speaks about uniting with other women while in NASA saying that "we could build a bit of an alliance to tackle some of the issues that come along…". Together, supporting each other and future generations, we can accomplish more than one can ever imagine
Women Changing the World On working hard on what you love:
All the women in the Time Magazine special edition know all too well the obstacles present in their respective industries, yet none chose to shy away from them. Instead, they fought to overcome the challenges through hard work and passion for their profession. "I wasn't seeking to be first. I was just doing my thing, and I wanted to serve humanity along the way" says Patricia Bath, who revolutionized cataract surgery. Ava DuVernay was also dedicated to her work, regardless of the barriers, and she says "I'm less interested in banging down the door of some man who doesn't want me there. I'm more about building my own house". However, it is not always easy to pursue your goals in the midst of adversity. It's not always easy to follow Barbara Walters, the first female to co-anchor on an evening news program, whose advice is to "… go to work early, leave late when all your work is completed and do your homework". However, Katryn Smith, the first female full time NFL coach, reminds us that "It's not going to happen overnight, but if you're persistent and you just keep grinding, good things will happen". When the hard work becomes too much, when the finish line is hard to see, just remember "good things will happen", and "Never, ever give up" as Maya Lin, the first woman to design a memorial at a national mall, says on fighting against the odds.
Time Magazine's special edition is celebrating these women and their accomplishments, in the hope that we, the readers, will be inspired by them and their stories. I found my inspiration in the wise words of Aretha Franklin, the first woman inducted into the Rock and Roll Hall of Fame, "… I don't think women need to do anything other than what they're doing right now, and that's moving forward. Moving to the forefront. Moving into the executive offices. Moving into the areas that men have held captive. We're coming"
Ana Medinac, 2017/18 RTC Fellow
Rewriting the Code- Empowering College Women in Tech