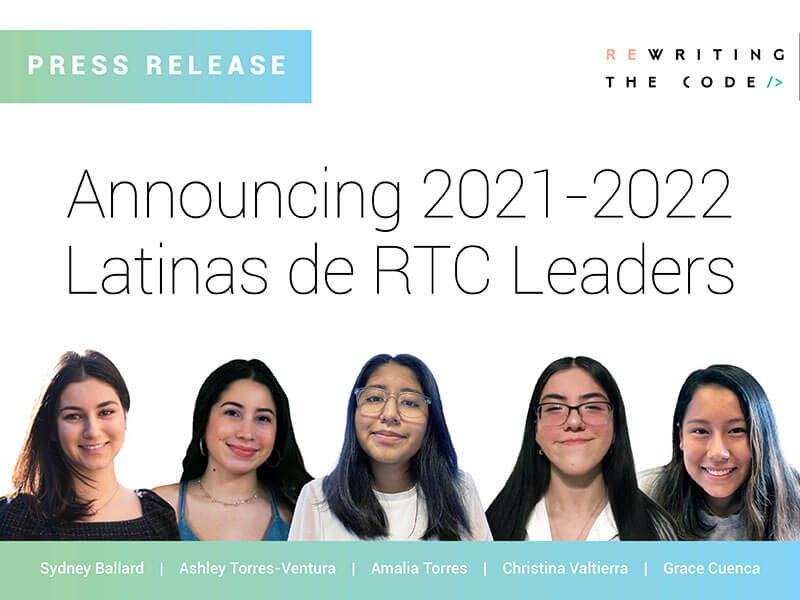 Durham, NC – September 16, 2021
FOR IMMEDIATE RELEASE
As our wider community of 14,000+ women continues to grow, our intersectional groups are able to serve larger populations. The 2020-2021 leaders of Latinas de RTC helped grow the group and create a welcoming space for all members of our Latina community, with almost 1,000 members now. However, with the changing of the school year, we had to say goodbye to Angie Lei, Camilla Scharlach, and Guadalupe Cisneros.
The two Latinas de RTC leaders who will be staying on for another term are Amalia Torres and Grace Cuenca, and we are pleased to welcome three new leaders who will be joining them. Please welcome our Latinas de RTC leadership team for this year:
Amalia Torres

"Hola Latinas de RTC! I am a junior studying computer science and minoring in data analytics at CUNY Queens College. My parents are from Oaxaca, México and I love visiting México and learning as much as I can about my culture. I am passionate about helping others, especially those in my community. I have worked as an enumerator for the United States Census Bureau and volunteered to help assembly members in my borough. Interning at the CUNY Advanced Science Research Center this past year has inspired me to learn more about the intersection between environmental science and technology. I look forward to growing the Latinas de RTC community this year!"
Grace Cuenca

"I'm a senior at Princeton University studying computer science and minoring in linguistics. I'm passionate about accessible technology, AI ethics, and increasing representation and access in under-resourced communities. As a first generation, low-income Asian-Latina daughter of immigrants, I hope to bring a unique perspective to the Latinas de RTC community and make all sectors of my intersectional identity heard as we plan for the 2021-2022 school year. In my free time I like to step (dance), play ultimate frisbee, and perfect the art of a curated Spotify playlist. I'm so excited to serve on the Latinas de RTC board for another year and can't wait for the events to come!"
Ashley Torres-Ventura

"I'm a sophomore at Stony Brook University majoring in Computer Science. I'm currently an RTC Champion and am also interning with PSEG. Along with RTC, I am involved in Success Coaching, ColorStack, WICS, LASO, and CSTEP. I am a first-generation Salvadoran-American and enjoy learning about other cultures! In my free time, I like to read up on true crime, write, work out, and bake! My goal for Latinas de RTC is to increase Latinas to join RTC, have resources available to them, and inspire other young Latinas to join the tech field. We will be able to help them navigate the tech world, connect with employers and organizations, and build a sisterhood. I'm very excited to be a part of the Latinas de RTC community and look forward to meeting everyone! ¡Viva la Raza!"
Christina Valtierra

"Hello! I am excited to join the Latinas de RTC team. I am a sophomore majoring in Computer Science at the University of Texas at El Paso, with a minor in Chemistry. I grew up in Juarez, Mexico where I first learned about engineering and programming through the robotics team at my school. I am very interested in the area of medical informatics, cybersecurity, and robotics, but also spend a lot of time being creative through dance and music, as those have always been a very big part of my life. A fun fact about me is that my life goal is to build a real-life Baymax. I look forward to all of the good things this year will bring!"
Sydney Ballard

"I am in my third year at Duke University studying computer science and bioinformatics. I am very interested in building technologies that improve human productivity while upholding high moral and ethical standards. Most recently I worked at Microsoft as an Explorer intern, and will be returning for the Summer of 2022 as a Program Manager Intern. While my academic and career interests have become clearer with time, I remember early in my college career feeling overwhelmed with self-doubt about whether tech was the right industry for me. Being a part of a minority group in the study of computer science as a Latina, I was so relieved to find RTC as an outlet for women just like myself who were experiencing the same struggles in deliberating their futures in computer science. I am thrilled and honored to be a part of the leadership team for Latinas de RTC, and look forward to helping women who are in the same shoes I was once in. In my free time, I really love reading realistic fiction or sci-fi and trying new coffee drinks."
This leadership group is already working on a number of exciting initiatives for the Latinas de RTC community for the upcoming year. Congratulations Amalia, Grace, Ashley, Christina, and Sydney!
About Rewriting the Code: Rewriting the Code is a 501(c)(3) nonprofit organization that has developed a community of exceptional college women with a passion for technology. RTC empowers women to become the next generation of engineers and tech leaders by providing community, industry education, professional and personal development, and hands-on experience though partnership with companies across North America.