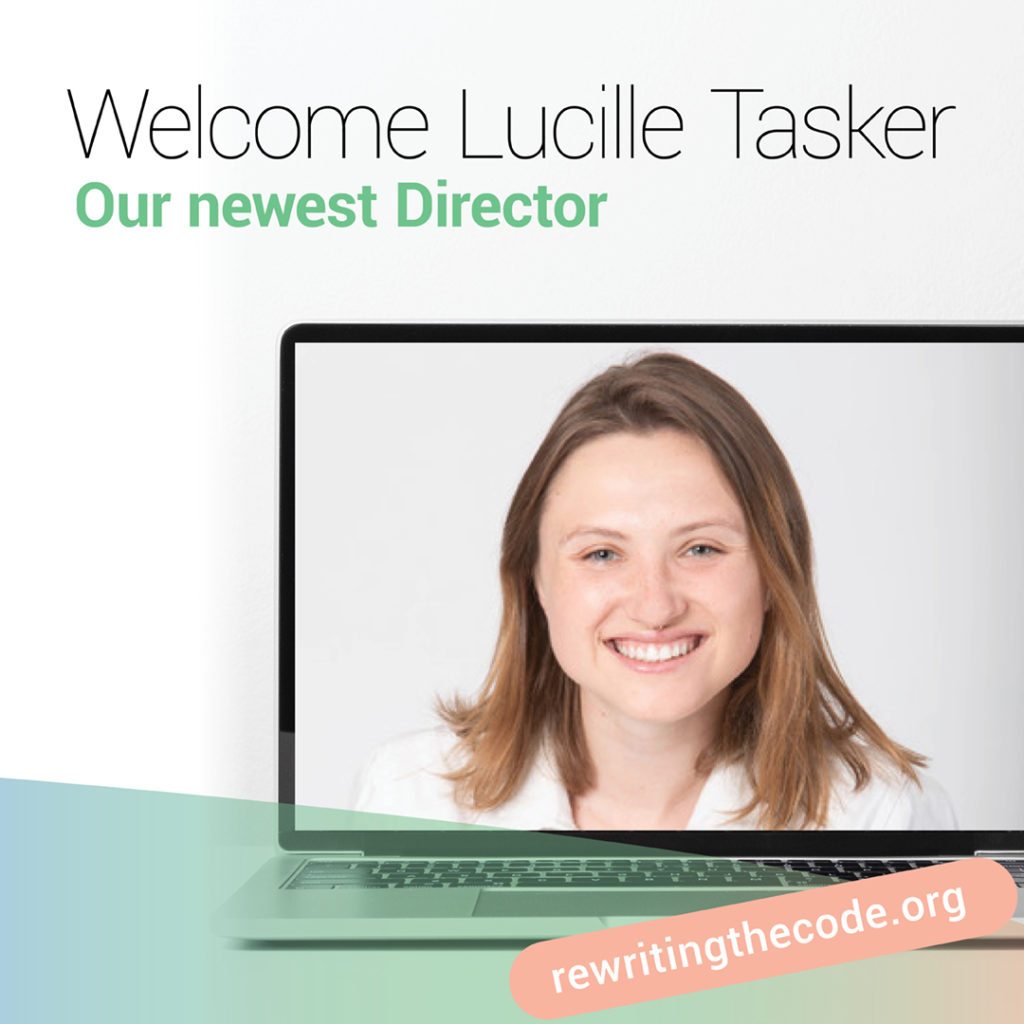 Durham, NC – May 10, 2021
For immediate release: Rewriting the Code, a national non-profit organization dedicated to supporting 11,500+ college and early career women with a passion for technology, is continuing to add team members to support continued strong growth. We are pleased to welcome Lucille Tasker as our new Director of Analytics Solutions and Enabling Technology.
Lucy has been with RTC since her student days, when she was part of the community as an undergraduate at the University of Wisconsin-Madison, double majoring in Psychology and Computer Science. She took leadership roles as a student within the organization, and interned with RTC during her senior year. Since graduating in 2019, she has been an active member of the alumni group and has continued to support RTC as a freelancer, playing an instrumental role in the launch of teamRTC, RTC's new community platform.
"When this opening became available, we knew Lucy would be a great fit, and hoped she would agree to join the RTC team on a full-time basis," said Jade Barricelli, VP of Student + Partner Programs for RTC.
Lucy has most recently been a Product Manager at one of RTC's amazing partner companies, Bandwidth, where she worked to triple the message-sending capacity. Though she loved the organization and the work, the RTC opening was one she just couldn't pass up.
"Changing careers isn't an easy decision, but I have a passion for helping other women in technology," Lucy said of the offer to join RTC. "I already believed in the organization's mission, and I know first-hand how much help the community can be for college women in tech. I'm excited to continue to make a difference for women like me with RTC."
Lucy lives in Raleigh with her partner and their many houseplants. In her free time she is training for the IRONMAN triathlon in September, and she teaches yoga.
To find out more about Rewriting the Code, visit us at rewritingthecode.org. To reach Lucy, you may email her directly at ltasker@rewritingthecode.org.
We are delighted for Lucy to become a full-time member of Team RTC!
About Rewriting the Code: Rewriting the Code is a 501(c)(3) nonprofit organization that has developed an international community of exceptional college and early career women with a passion for technology. RTC empowers women to become the next generation of engineers and tech leaders by facilitating community, career exploration, mentorship, professional and personal development, and hands-on experience though partnerships with tech companies across a variety of industries.