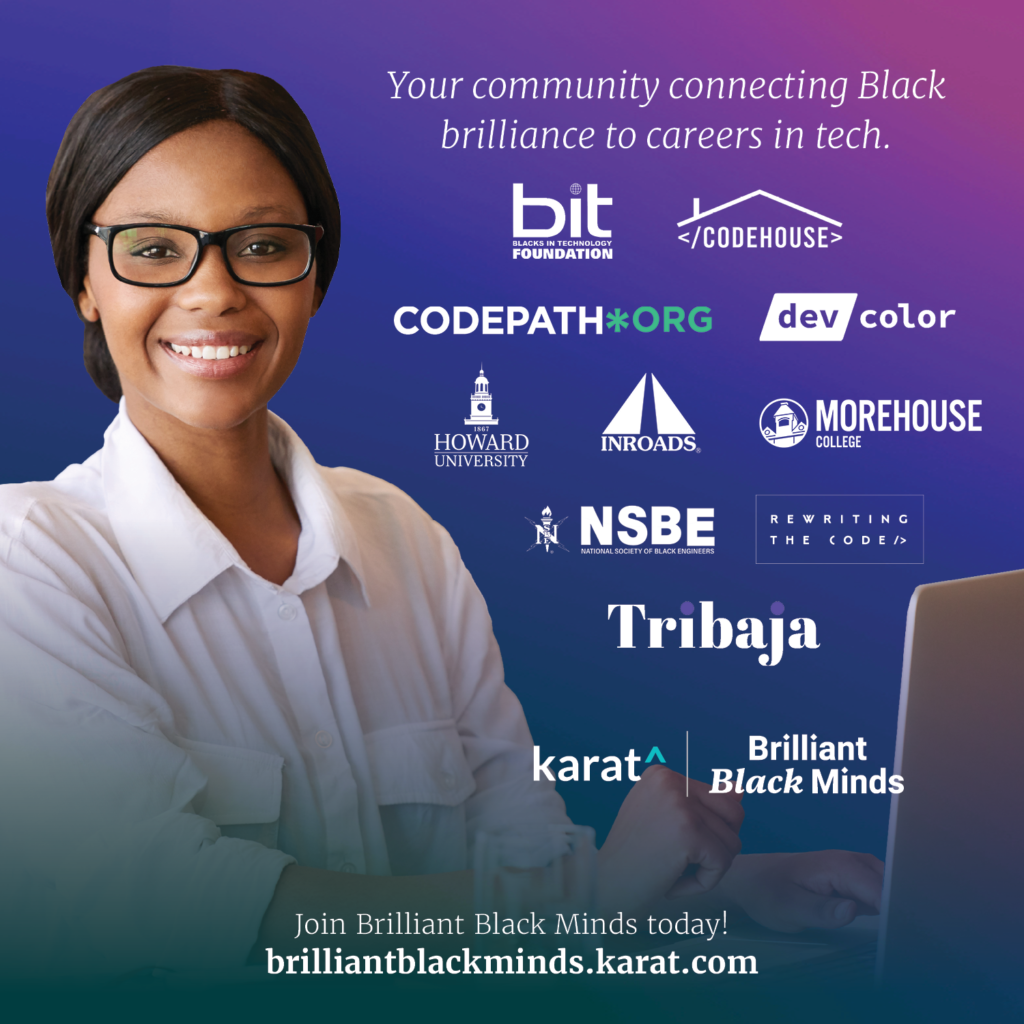 (Seattle, WA) – September 28, 2022 –  Karat, the world's largest interviewing company, today announced that five leading corporations had joined the Brilliant Black Minds movement to help double the number of Black software engineers in the United States. As the movement's inaugural Partners of Brilliance, Prime Video, Citi, Duolingo, Indeed, and Flatiron Health are the first organizations to commit to supporting and hiring qualified software engineers directly from the Brilliant Black Minds community. 
Following its launch in 2021, Karat's Brilliant Black Minds program received an investment from tennis champion, Serena Williams, to scale and accelerate its work to close the Interview Access Gap that disproportionately impacts Black software engineers. Today's announcement further advances the movement by directly connecting engineers to specific roles based on their practice interview progression. Eligible participants who opt-in to new opportunities are invited to connect with a recruiter and fast-track through the interview process with Partners of Brilliance.
"The technical interview should be a gateway to economic opportunity, but we know it can be yet another barrier for Black software engineers. The Brilliant Black Minds program offers free interview practice, feedback, and coaching to help Black engineers unlock the doors to great companies," said Jeffrey Spector, Karat co-founder, and president. "Through the support of our new Partners of Brilliance, we're now able to connect more talented engineers to jobs that will change lives." 
Karat is also expanding the movement with many of the most trusted organizations supporting Black engineers. Industry partners include /dev/color, Blacks In Technology Foundation, CodeHouse, CodePath, Howard University, INROADS, Inc., Morehouse College, National Society of Black Engineers (NSBE), Rewriting the Code, and Tribaja. Each of these organizations shares a commitment to developing talent and advancing the careers of the next generation of leaders from underrepresented backgrounds. As part of their partnership, they will participate in workshops and continue to encourage their members to join Brilliant Black Minds.
To sign up for free practice interviews and qualify for great jobs through our Partners of Brilliance, visit https://brilliantblackminds.karat.com/.
About Brilliant Black Minds
Many Black software engineers face multiple barriers to entry for jobs in the tech industry, from structural inequities that delay early exposure to computer science to limited information about how the industry hires, fewer connections in their professional networks, and fewer opportunities to practice technical interviews. As a result, just 5 percent of all software engineers in the U.S. are Black. Karat launched Brilliant Black Minds to close the Interview Access Gap that disproportionately impacts Black software engineers and provides equitable access to interview practice. 
About Karat
Karat is the world's largest interviewing company, pioneering the Interviewing Cloud to solve the multi-decade global shortage of software engineers. The Interviewing Cloud is an always-on, consistent human + technology solution for conducting predictive, fair, and enjoyable technical interviews 24/7. Karat's global network of Interview Engineers, unparalleled market intelligence, and purpose-built interviewing infrastructure accelerates engineering hiring, improves diversity outcomes, and elevates the quality of hire. Leading enterprises such as Walmart, Roblox, American Express and Atlassian trust Karat to unlock developer time, raise engineering quality and drive consistency at a global scale so that they can innovate and win.