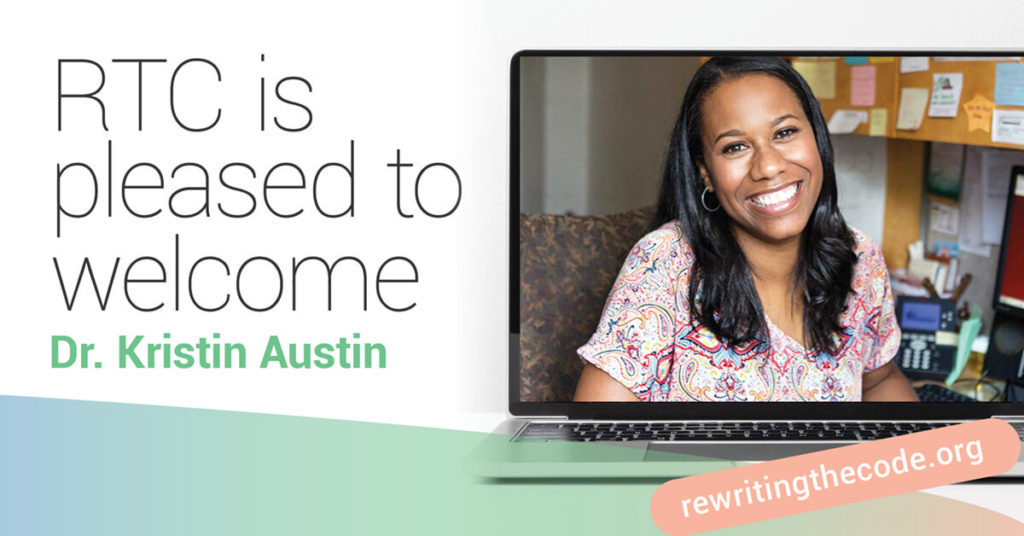 Durham, NC – April 15, 2021
For immediate release: Rewriting the Code, a national non-profit organization dedicated to supporting 11,000+ college and early career women with a passion for technology, is pleased to welcome Dr. Kristin Austin as our Director of Inclusion, Diversity, Equity and Access.
As a professional helper, Dr. Austin has accumulated nearly twenty years of experience in the helping professions rooted in a core foundation of social work, synergized by higher education. Specifically, Dr. Austin has spent her career serving higher education, rotating in administrative leadership roles, or as a full-time faculty member. Dr. Austin's higher education experience spans private, public, for-profit, international, and domestic institutions. In similar diversity leadership positions, Dr. Austin has had the privilege of working with numerous student populations, including adult learners, undergraduate students, graduate students, professional school students, first-generation, English-language learners, and more.
"I am delighted to welcome Kristin to the RTC Team. RTC seeks to support our student and alumni women in tech populations at this critical and challenging time," says Sue Harnett, Founder, President + Board Chair of Rewriting the Code. "We are navigating equality for women in the underrepresented field of tech, the broad implications of the pandemic, social justice and more. Kristin's experience and welcoming nature will offer the RTC community the necessary tools and outlook to navigate these challenging times."
Dr. Austin earned her bachelor's degree in Social Work from Bloomsburg University; master's degree in Counseling from Edinboro University; and doctorate in Higher Education Administration from Immaculata University. She is married to a fellow higher education professional and has three children aged 11, 9, and 5.
To find out more about Rewriting the Code, visit us at rewritingthecode.org. To reach Dr. Austin, you may email her directly at kaustin@rewritingthecode.org.
We are delighted to welcome Dr. Austin to Team RTC!
About Rewriting the Code: Rewriting the Code is a 501(c)(3) nonprofit organization that has developed an international community of exceptional college and early career women with a passion for technology. RTC empowers women to become the next generation of engineers and tech leaders by facilitating community, career exploration, mentorship, professional and personal development, and hands-on experience though partnerships with tech companies across a variety of industries.