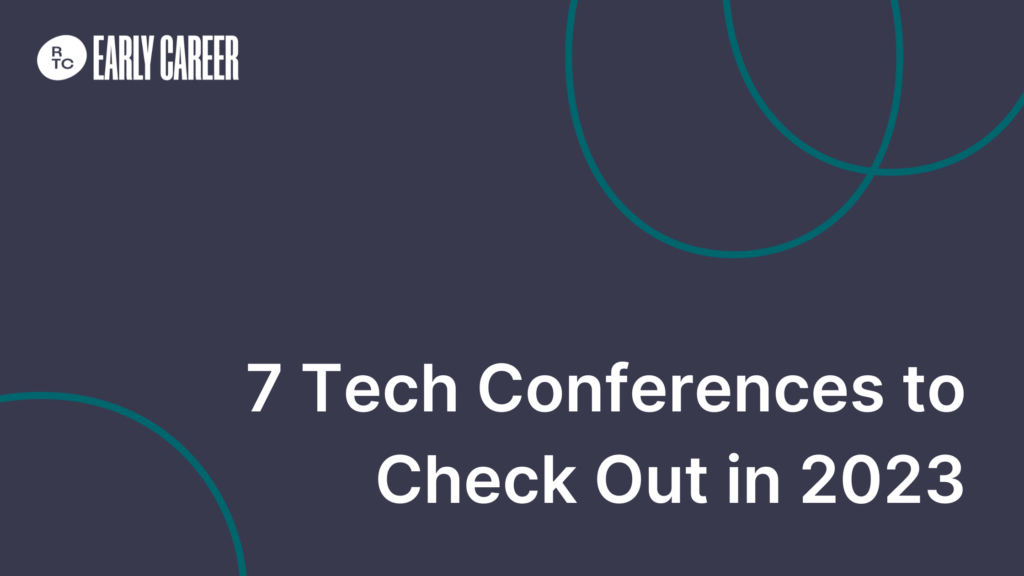 Written by Rachel Maheshwari, RTC Director of Early Career Programs, and Christy Augsburger, RTC Director of Marketing.
After a few years of COVID and the isolation that came with it, many of us are looking forward to the connection, vibrant buzz, and possibilities that only good tech conferences can provide.
For those in the tech industry, tech conferences are an excellent opportunity to connect with peers, network with recruiters and hiring managers, and learn from subject matter experts in their field. They are also a fantastic opportunity to shape your career goals, suss out companies that have piqued your interest, and build relationships that can further your career.
We're highlighting some of the tech conferences that early-career women in tech should consider attending in 2023.
So go ahead, check out these conferences below, and we hope to see you at one soon!
NSBE (National Society of Black Engineers)
– When? March 22-26, 2023
– Where? Kansas City, MO
– What's unique about NSBE? NSBE is one of the largest student-governed organizations in the country. This year will be the 49th annual convention, hosting a 3,000+ general session and a career fair with over 300 companies. The flagship career fair is one of the largest recruitment events in the US for aspiring and current black engineers and technologists. It's not too late to attend NSBE – grab your tickets here!
The conferences mentioned above offer a range of opportunities for women in tech, including workshops, panels, networking events, and mentorship programs. By attending these conferences, early-career women in tech can gain valuable insights, develop their skills, and invest in their future.
Interested in being part of a community that supports you before, during, and after you attend a tech conference? Join Rewriting the Code's free Early Career community of over 6,500 women worldwide!
Join Us
Members can win up to $2k to cover conference and travel fees for a conference of their choice in 2023 for participating in our annual Early Career Survey (for women 1-5 years into their careers).
Are you a college or graduate student? RTC members can apply for a conference scholarship to attend many of the conferences we've shared here. Become a member today — our private community is always free.
To learn more about the RTC Early Career Community, please visit the In Your Career page.
Stay connected with RTC through Instagram, Facebook, and LinkedIn, or join our community of 17,000+ women in tech at teamRTC.org.